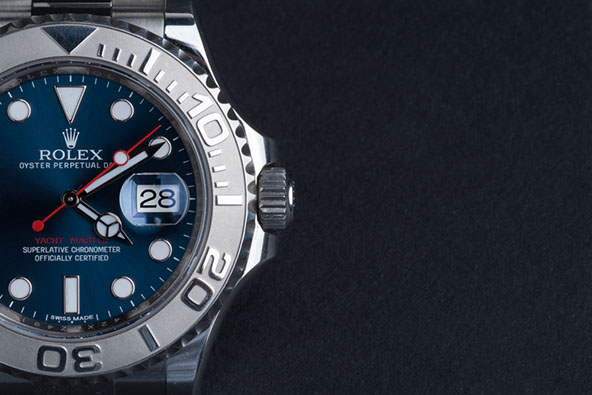 Source: pio3/Shutterstock.com
A Rolex watch is more than a luxury accessory; a Rolex is a sophisticated timepiece crafted with care and precision and a worthwhile investment that can become an heirloom piece with the correct maintenance. The cost of a Rolex watch varies based on complications, the model, and the materials used. A watch's vintage or pre-owned status also affects pricing. So just how much is a Rolex watch? In this buyer's guide, find out exactly what affects the price point and the cost of specific models, such as the Daytona, Sky Dweller, and Submariner.
Find the Perfect Rolex for Your Wrist
How Is Price Determined?
The biggest factor determining what you pay for a Rolex is the Manufacturer's Suggested Retail Price (MSRP). The MSRP of a Rolex watch is set by the company and reflects the costs of manufacturing the watch, including the time, labor, and materials that went into making the timepiece. Rolex watches are made from precious metals like gold, white gold, platinum, and Oystersteel, a 904L steel resistant to general corrosion. Some Rolex models feature diamonds and other precious gemstones in their design. These factors help determine the price of a Rolex.
Rolex watches are specially designed and crafted with meticulous care. Rolex employs intensive research and design methods and uses sophisticated technology, like gas spectrometers and electron microscopes, in the production of its watches. The cost of a Rolex reflects this process and factors into the overall cost of the timepiece.
Finally, the availability and popularity of the model also affect the retail pricing of a Rolex. Dealers and retailers often price popular models slightly higher than the MSRP, and vintage or one-of-a-kind pieces can sell for millions of dollars at private auctions.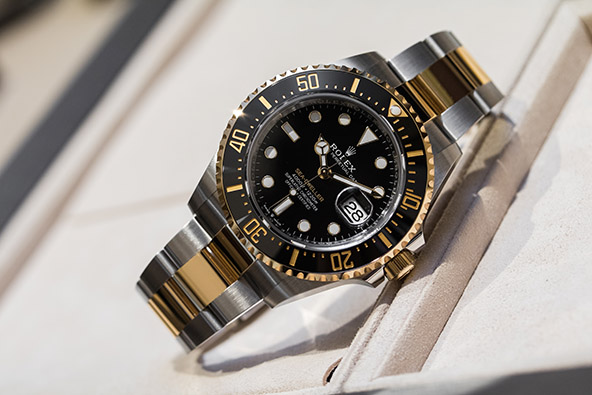 Source: Portal Satova/Shutterstock.com
How Much Does a Rolex Cost?
When looking through the wide array of Rolex watches for men and women to find your perfect timepiece, it is helpful to have an overview of the average cost of each model. Below is a sampling of Rolex's most popular models and their pricing.
The Rolex Oyster Perpetual Air-King 116900 is priced at $9,995 and features an Oystersteel bracelet and bezel. This model is worth every penny with a power reserve of 48 hours and a Parachrom hairspring oscillator.
The lowest-priced Datejust Two-Tone is the Rolex Datejust 36mm Two Tone 126231WRO, which features 18K rose gold and Oystersteel and costs $12,750. On the high end is the Rolex Datejust 36mm Two Tone 126231MOPDJ with a mother of pearl dial, priced at $19,200.
The Rolex Oyster Perpetual Datejust 126200BIO has a classic appearance. It is priced at $8,695, while the Rolex Oyster Perpetual Datejust 126234MOPDJ featuring a mother-of-pearl and diamond dial comes in at $15,595.
The Daytona is one of Rolex's most popular models and comes in a variety of designs. The Rolex Cosmograph Daytona 116503 Champagne is priced at $24,995, while the gorgeous Rolex Cosmograph Daytona Green - 116508 is priced at $89,000.
The Rolex Explorer II, which comes in both the black and white polar dial, are priced similarly. The Rolex Explorer II 226570 Black is $15,995, while the Rolex Explorer II 226570 White costs $16,995. The price difference between the two reflects the uniqueness of the polar dial and its collector's value.
The Sky Dweller series features detailed-sculpted bezels, and multi-colored dials, and each is made from a range of Oystersteel, gold, and leather materials. The mid-range in this collection is the Rolex Rose Gold Sky Dweller 326235 Rhodium, priced at $47,995.
The stunning Rolex Submariner collection features watches with rotatable bezels that mark time in hour-long gradations. It was originally designed for divers to safely monitor time underwater. The beautiful Rolex Submariner Blue 126613LB is a gorgeous watch and costs $19,995 and features a two-tone bracelet, while the Rolex Submariner White Gold 116619 LB is an elegant version priced at $44,995.
How to Choose Your Rolex
Although cost is an important factor when choosing your Rolex timepieces, remember to consider other factors. When you look at various Rolex models, take the following factors into account.
Current price
Projected future resale value
Craftsmanship
Sentimental value
Complications
Functional value
Aesthetic appearance
Potential collectors value
Source: Jitjaroen Channarong/Shutterstock.com
Find the Perfect Rolex
Find your perfect Rolex at Luxury of Watches. We offer more than 14 different Rolex models for men and women for you to choose from. Opt for a new Rolex at retail price or search through our pre-owned Rolex selection for an affordable option. We've been selling high-end watches for over 25 years and offer a Certificate of Authenticity with any Rolex you buy from us. Browse our online selection or call to talk with one of our expert sales staff who can guide you to your perfect timepiece.