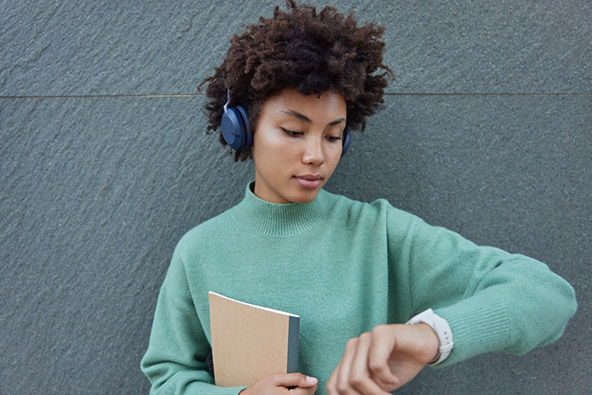 A watch is appropriate in virtually any setting. At Luxury of Watches, we know that wearing one is more than just a way to track time. The watch you choose highlights your style, whether at home, at a fancy-dress event, at the office, or out on the town. Even though your cellphone tells you the time, wearing a watch is a bold fashion statement that never goes out of style.
1. At the Office
For many, a watch is an office essential. That doesn't mean it has to be strictly utilitarian, though. It can be fun to choose from a wardrobe of watches each workday to coordinate with what you're wearing. For example, Rolex watches are ideal for a board meeting or upper management event. They are high-quality, solid, and stylish, just like you. And if you're wondering, "How much is a Rolex?" you might be surprised how much you can save with a preowned Rolex vs. a new one.
2. On a Date
When going out after work, think of wearing a watch as a fashion accessory that underscores your best attributes. It can add a bright spot that perks up office attire while hinting at your vibrant personality. A gold or silver watch provides a touch of bling that reveals an upbeat vibe that's perfect for a fun evening.
3. On Sporty Saturdays
Sporty Saturday activities are ideal occasions for wearing a watch. One with a built-in timer is great for timing a community run or taking splits at a track and field event. A kids' swim meet, a Jack and Jill soccer game, or a basketball playoff — wear a watch wherever people are at play.
4. At Casual Events
Wearing a watch should be a no-brainer when you attend parent's night at school, work the bake sale, or meet friends for coffee. Sure, it helps you stay on schedule, but our watches are also statement accessories. The watch you wear speaks volumes about your organizational skills. It can also complement what you wear, making an effortless fashion statement.
5. On Special Occasions
Break out your finest ensemble for those annual parties, including a luxury watch that reflects your celebratory style. Pair diamond cufflinks with one of our classic, diamond-inlaid Hublot watches to add sparkle to your ensemble. Accent your favorite jewelry with a watch that keeps pace perfectly.
Shop Our Luxury Hublot Watches
6. At Formal Evenings
A fine watch like a Hublot is tailor-made for formal events. For example, wear one of our glimmering Hublot Big Bang 361.SX.7170.LR.1204 watches with a circle of diamonds that lights up your watch face and your formal wear, too.
7. In the Spotlight
All eyes are on you when you are at the podium giving a speech or presentation. Make a flawless impression right down to the watch on your wrist. In this situation, choose quality over quantity. While a fancy watch with a large face is more visible to your audience, you don't want to detract from what you're saying. Instead, make a more subtle statement with an attractive Rolex from our selection that is sized to fit your wrist.
8. Around Town
When doing errands, keeping appointments, and chauffeuring family members from place to place, wearing a simple yet precision-made watch is key to time conservation. With an accurate timepiece, you can be where you need to be on the dot. You waste less time waiting, and you won't be late collecting the kids from karate or for a business appointment.
Wear Your Watch Everywhere
A watch is essential to the workplace, but it is also a must-have wherever you celebrate, travel, and play. Wearing a watch from our classic Luxury of Watches collection keeps you on time and on-trend wherever you happen to be.