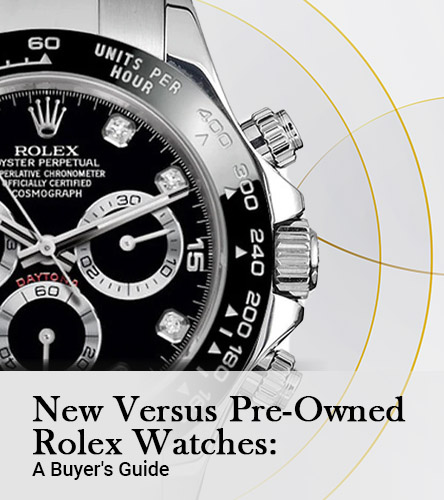 Purchasing a luxury timepiece, such as a Rolex watch, is a significant investment, both emotionally and financially. Therefore, it's crucial to weigh all your options before taking the plunge. Depending on your needs and the Rolex model you're looking for, there are significant benefits to new and pre-owned watches; consequently, the question of which is better is both complex and personal. To help you answer this question, we are going to explore some of the determining factors.
The History of Rolex Watches
Interestingly, this Swiss watch manufacturer started its life in London in the early 1900s, when it was founded by Hans Wilsdorf and Alfred Davis in 1905. The company changed its name to Rolex three years later and moved to Geneva, where its headquarters remain today. Since then, Rolex has remained a revered manufacturer and prolific producer of watches. Today, they produce 2,000 timepieces a day.
Rolex Innovations
Throughout its century of operation, the Rolex brand has been responsible for numerous innovations in the world of horology, including being the first wristwatch to receive the Swiss Certificate of Chronometric Precision in 1910, producing the first waterproof wristwatch in 1926, creating the first watch that could display multiple time zones in 1954, and making the first watch with a command bezel designed for multiple uses.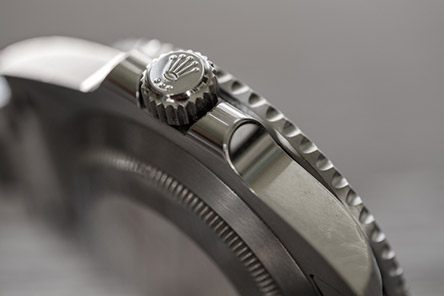 Historical Auction Prices
In addition to Rolex's numerous innovations, the brand is known for its high quality and the high prices their most exclusive models reach at auction. In fact, Rolex occupies three spots on the list of the top ten most expensive watches sold at auction.
The Paul Newman Daytona Ref. 6239 that sold for $17.753m in 2017 occupies number three. The Daytona Unicorn Ref. 6265 that sold for $5.937m in 2018 is number eight, and number ten is the Bao Dai Ref. 6062 that went for $5.060m in 2017. Luckily for you, these exclusive auctions are not the only way to get your hands on Rolex watches.
The Price of New Versus Pre-Owned Rolex Watches
Whether you're buying a pre-owned or new Rolex watch, you will be spending a significant amount, so let's get down to brass tacks and talk about the issue of price. Generally speaking, pre-owned Rolex timepieces are significantly cheaper than their new counterparts.
This is because, as with most new purchases, there is a certain amount of depreciation as soon as you leave the store. For more cash-conscious buyers, this price drop affords them the opportunity to own their dream watch at a price they can afford. But the topic of depreciation of Rolex watches is, in itself, rather complicated.
What About Depreciation?
Not only are pre-owned Rolex watches less expensive to buy, but they also experience a less dramatic depreciation because the greatest drop-off in value generally occurs right after the watch has been bought new. However, not all Rolexes experience the same degree of depreciation. If you are thinking about investing in one of these stunning watches, it's worth doing your research about the depreciation rates of the specific model you are interested in before splashing the cash.
Depreciation rates are influenced by many factors, including the specific model, the materials used, and the market demand. If you're not an expert, these rates can be quite shocking. For instance, you may have thought that Rolex watches made from gold would be a safer investment than other materials, but full-gold Rolexes can drop by up to 40% in value. In contrast, stainless steel Rolexes typically see a depreciation rate of 20%.
When Rolex Watches Increase in Value
So far, we've talked a lot about the depreciation of Rolex watches; however, it's worth noting that luxury watches can often increase in value over time. Within the luxury watch market, Rolex timepieces are known for holding their value well, thanks to extreme worldwide popularity. Additionally, certain models, specifically the Submariner and the Daytona, frequently appreciate, so investing in a piece such as the Submariner 16610 could be an excellent investment.
Other factors that can cause a Rolex to rise in value include if it has a rare reference number or unique features which make it highly desirable to collectors and enthusiasts. A notable example of this is the red Submariner watches, which feature the "Submariner" text across the dial in red, as opposed to the more common white. Despite the possibility of your Rolex gaining in value, buying a pre-owned watch is generally a more financially sound decision.
Always Research the Seller
Although it might be cheaper to buy a pre-owned Rolex, it also comes with its own challenges. One such challenge is making sure you purchase your watch from a trusted seller. As with any big purchase, it's crucial to do your research beforehand since you are much less likely to be taken advantage of if it's clear you know your stuff. Unfortunately, there are plenty of counterfeit Rolexes, and many of them are notoriously difficult to spot. Take the time to do your research about the seller to ensure they are legitimate.
Buying a new Rolex can be safer. Nevertheless, shopping with a trusted seller like Luxury of Watches gives you greater security and peace of mind, whether the watch is new or pre-owned. All our pre-owned watches come with a certificate of authenticity and an additional five-year warranty. We also only accept pre-owned watches in excellent condition.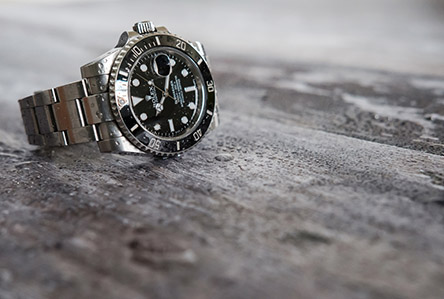 Luxury Watches Built to Last
In addition to producing beautiful timepieces that never go out of style, Rolex is famous for the quality of their watches. From the engineering and manufacturing to the design and materials, Rolex watches are built to last.
One of the ways Rolex maintains the longevity of their pieces is by focusing on improving their existing models rather than regularly introducing entirely new designs to the market. This is why you will see so many versions of classic Rolex watches and endless variations of their models, such as the Rolex Cosmograph Daytona 116501 and the Rolex Paul Newman Daytona 1165808.
Shop Our Entire Rolex Watch Selection
Complexity Versus Simplicity
The Daytona models, with their chronographs, stand out among the relatively straightforward watches Rolex typically produces. Historically, Rolex watches are simple three-handed designs, sometimes with a calendar function. This simplicity has allowed Rolex to perfect their timepieces and tends to result in more durable watches. The more complex the engineering, the more parts there are to break down over time.
In recent years, Rolex has begun producing more complicated watches, such as the Sky-Dweller, which can simultaneously display two different time zones, as well as the day and month, and boasts Rolex's first annual calendar, Saros. Thanks to decades spent perfecting their engineering and manufacturing, these intricate models have been built with the utmost expertise.
If properly cared for and serviced regularly, all of Rolex's timepieces can last a lifetime, making them ideal family heirlooms. This means that, while purchasing a new Rolex watch is a significant financial investment, you will be buying something that can stay in your family for generations. It also means there's no reason a pre-owned Rolex can't last as long as a new model.
The Availability of Rolex Watches
Unlike other second-hand markets, where you might spend months or years waiting for the item you want to come available, the pre-owned luxury watch market has a much more comprehensive range than the new market. This makes purchasing a pre-owned Rolex a more appealing prospect.
While there is often a waiting list for Rolex's famously sought after watches, particularly the popular stainless steel varieties, specific models are notoriously difficult to get hold of. Let's take a look at some of these elusive pieces: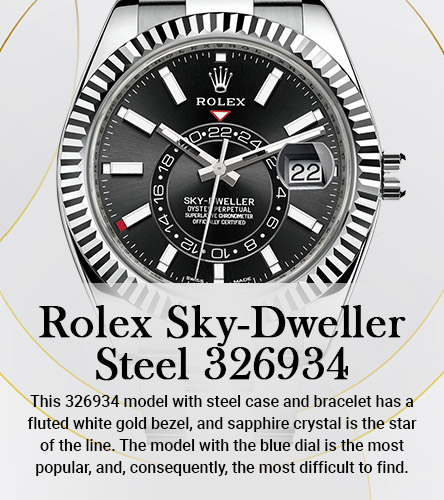 The Sky-Dweller is Rolex's most complex watch, but, surprisingly, that didn't put it in high demand when released in Baselworld 2012. This may be because, initially, it was only available in gold, with either a gold bracelet or a leather strap. However, in 2018, the Rolesor models came onto the scene and became an instant must-have among collectors and enthusiasts. This 326934 model with steel case and bracelet has a fluted white gold bezel, and sapphire crystal is the star of the line. The model with the blue dial is the most popular, and, consequently, the most difficult to find.
Rolex Submariner "Hulk" 116610LV
Similarly to the Sky-Dweller, the Submariner "Hulk" did not receive great praise when it was first introduced to the market in 2010. Although the Submariner has been a staple of Rolex's collection for decades, this version's bright green color wasn't exceptionally well-received. However, as time went on, interest grew, and it became one of the hottest watches on the market.
With a daring green ceramic bezel and dial, and a scratch-resistant sapphire crystal, this piece is set to be a memorable collectible. Over the last year or so, there has been great speculation as to whether Rolex would discontinue the Hulk 116610LV, and it finally happened this year. Inevitably, the price of pre-owned Submariner Hulks is rocketing and shows no sign of stopping anytime soon.
The way these models have grown in popularity and value emphasizes how tricky the question of new versus pre-owned Rolex watches is. In some cases, buying a pre-owned watch is the only way to get the model you want. However, these cases highlight the fact that certain watches actually increase in value over time, meaning that you could get a deal when buying new.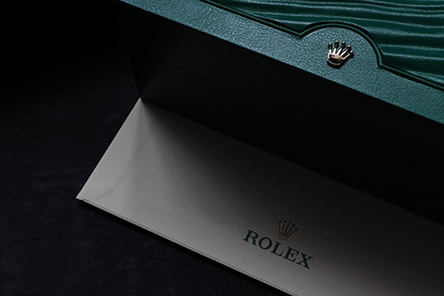 Sustainability of Your Purchase
In recent years, many luxury watch brands have put a new focus on sustainable production and investing their considerable wealth into environmental projects. Rolex, for instance, has multiple eco-initiatives, such as Perpetual Planet, their enhanced partnership with the National Geographic Society that aims to collect important climate data. However, the fact remains that buying second hand is considerably more sustainable, especially when it comes to products like luxury timepieces that feature diamonds and other precious stones. As a result, for the eco-conscious watch enthusiast, purchasing a pre-owned Rolex is an appealing prospect.
Emotion and History
We've discussed the practical factors that should be considered when deciding whether to buy a new or pre-owned luxury watch. However, we cannot forget that purchasing a timepiece is often an emotional experience.
Whether you're buying a watch that you've always dreamed of owning, or purchasing a special gift for a loved one, purchasing a Rolex watch is incredibly personal. For some watch-lovers, chasing after a specific model is a hobby or a mission, and owning the watch is more important than whether it's new or pre-owned. For instance, even if you're searching for a pre-owned Rolex Submariner 16610, you may settle for a new model if it's all you can find.
Other horology enthusiasts value the history that comes with a pre-owned or vintage watch, a history they become part of as they make the purchase. There are also the watch aficionados that will pay big bucks to know they are the first person to own a luxury timepiece. For them, there's something special about owning and wearing a new watch fresh out of the box.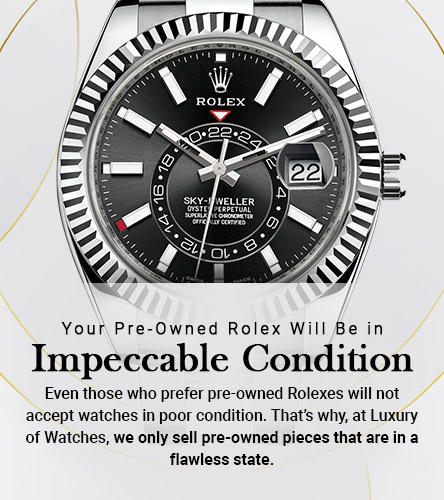 Your Pre-Owned Rolex Will Be in Impeccable Condition
Even those who prefer pre-owned Rolexes will not accept watches in poor condition. That's why, at Luxury of Watches, we only sell pre-owned pieces that are in a flawless state. Our pre-owned Rolexes are in such good condition that they could tempt die-hard new watch lovers to try a pre-owned model.
While some vintage watch enthusiasts specifically look for a certain level of patina in their pre-owned watches, most people in the market for a non-vintage pre-owned Rolex don't want to see any difference between the pre-owned and new versions. With Luxury of Watches, they never will.
The Verdict
Investing in a luxury timepiece is a significant financial commitment that has considerable emotional implications. Selecting your Rolex is a personal journey, especially when you consider that, if you desire, your watch will be with you for the rest of your life. With Luxury of Watches, whether you opt for a new or a pre-owned piece, you're bound to be satisfied. Time is ticking; get your Rolex watch today.
Image Credits
Source: Fajarpramudya / Shutterstock.com
Source: Nick Beer / Shutterstock.com
Source: Enjoy The Life / Shutterstock.com