Source: pio3/Shutterstock.com
Rolex watches have long been the standard of luxury, a status symbol as much as a sign of exquisite taste. Rolex watches didn't get a reputation for excellence by accident: Every step of a Rolex watch's production, from development to polish, occurs in a Rolex-owned facility, allowing them to control even the most minute details.
A Brief History of Rolex
Hans Wilsdorf and Alfred Davis founded Wilsdorf and Davis in 1905 in London, which they renamed Rolex Watch Company, Limited in 1915. After World War I, the company moved to Geneva, Switzerland, where it has remained. By 1920, the brand was redubbed Montre Rolex SA and eventually just shortened to Rolex SA.
Determined to find a way to protect watches from dust and water, Wilsdorf tirelessly pursued a waterproof watch and, in 1922, the Rolex Submariner was introduced. As the world's first waterproof watch, the case rested within an outer case that was watertight. By 1926, Wilsdorf introduced the Oyster case, making a completely waterproof watch suitable for diving enthusiasts. Over time, Rolex purchased the companies they sourced parts from, and each watch is now made entirely in-house by Rolex's highly trained experts. Some aspects of a Rolex are still only completed by hand, such as the assembly and regulation of the calibers.
Les Acacias, Switzerland
Les Acacias, Geneva serves as the brand's international headquarters. Built-in 1965 with a façade in the trademark Rolex green, the complex houses the brand's management, research and development, design, communications, sales, after-sales service, final assembly of parts, and quality control. The rigorous quality control each watch undergoes at the Les Acacias facility ensures each piece is perfectly crafted to Rolex's high standards. Every watch is tested for self-winding, waterproofness, and precision. Each watch receives the Green Rolex Seal with a five-year guarantee at the end of the quality control process.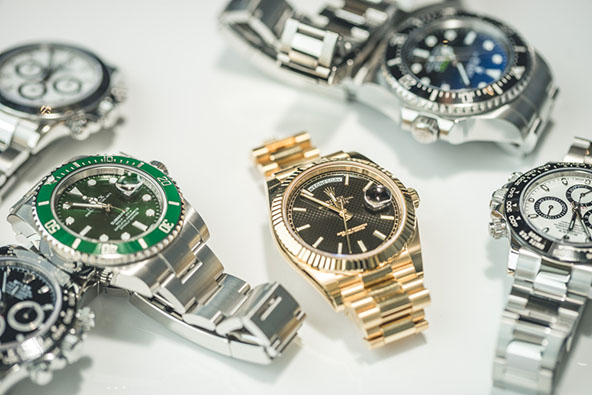 Source: S-Studio/Shutterstock.com
Bienne, Switzerland
Until 2004, Bienne was the site of the Aeglar Company, which made Rolex's high-quality calibers. In 2004, Rolex acquired them for allegedly more than a billion CHF. The site now employs more than 2000 people who produce the precise movements of a Rolex watch, including the calibers, the patented Paraflex shock absorbers, and Parachrom balance springs.
Plan-les-Ouates, Switzerland
Located in Geneva, Switzerland, Plan-les-Ouates develops and produces quality cases and bracelets for Rolex watches. This facility is the biggest of the four Rolex complexes, and six of its eleven stories are underground for maximum security.
The site includes a state-of-the-art laboratory with robotic inventory, iris security scanners, and Rolex's pirate gold foundry. They craft their three types of 18K gold in-house: yellow gold, white gold, and Everose gold, Rolex's proprietary pink gold. They also manufacture their 904L stainless steel at this location. Other elements housed here include an industry-leading ceramics department and top-rated scientists who study lubrication, wear, and friction of the various metals used in the construction of a Rolex watch.
Chêne-Bourg, Switzerland
The facility at Chêne-Bourg houses dial and gem-setting development and production. Rolex only uses flawless gemstones in their watches, and the dial markers are crafted from solid gold. Before leaving the Chêne-Bourg facility, all watch cases are hand polished to ensure a flawless finish.
Find the Perfect Rolex for You Today
How to Tell if a Rolex Is Real
Rolex's exceptionally high standard of craftsmanship, strict oversight of every production element, and rigorous quality control tests make Rolexes hard to imitate, though many people try. If you are wondering how to tell if a Rolex is real, check the watch for these qualities:
Rolex watches are only made in Switzerland, so the real thing has "Swiss made" printed on the bottom of each dial, in tiny print.
Rolex watches never tick. They are operated by an automatic movement, which is entirely soundless.
Serial numbers are laser-etched on the Renault (inner bezel) of all Rolex watches produced after 1960. Before 1960, the serial number was etched between the 6 o'clock lugs. Whatever serial number you see should perfectly match the serial number on the certificate of authenticity.
A crown should be etched on the glass at the 6 o'clock position on every Rolex. This can be difficult to see, so you might need a magnifying glass.
Rolex watches have a smooth case back unless the model is vintage.
The cyclops over the date should be smooth and polished on a real Rolex watch. These are incredibly hard to imitate, so, if you notice any flaw here, be wary.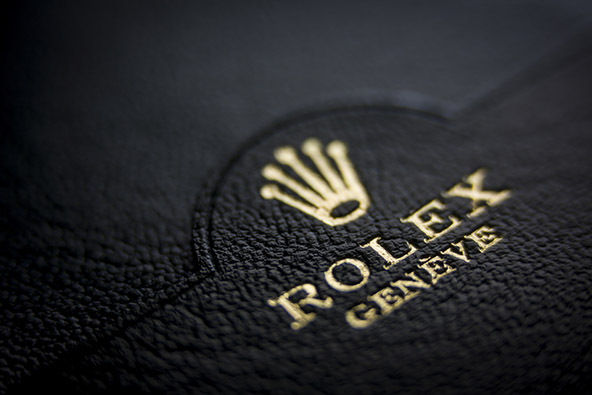 Source: EFECREATA/Shutterstock.com
Explore Our Extensive Rolex Collection
With Luxury of Watches, you never have to worry about whether the Rolex you purchase is real, regardless of purchasing new or pre-owned. We offer a wide variety of styles, so you'll be able to find the timepiece that speaks to you. The quality craftsmanship will last for years, making any Rolex a worthwhile investment.