Whether you own a collection of high-end timepieces or are new to the world of luxury watches, you likely are familiar with the famed Rolex brand. Established in 1905, Rolex is the world's largest and most recognizable luxury watch brand and has set the diamond standard for watchmakers around the globe.
Rolex watches offer some of the most sophisticated and sought-after watch models available, from their functionality to unmatched craftsmanship and style. However, if you are buying your Rolex outside of a trusted jeweler or dealer, it may be harder to verify if your Rolex watch is the real deal. To ensure you're investing in a genuine Rolex watch, here are seven key signs to tell if a Rolex is real.
Source: TY Lim/Shutterstock.com
1. Your Watch Ticks
One of Rolex watches' unique characteristics is that they don't make the traditional ticking sound found in other watches. Rolex watches for men and women are powered by an automatic movement, not a quartz movement typically found in other watches. The only exception is the Rolex Oysterquartz series produced in the 1970s. This special type of mechanical movement is entirely soundless, so if your watch is ticking, this is a telltale sign that your Rolex timepiece is not authentic.
2. No Engraved Rolex Serial Number
Every authentic Rolex contains a Rolex serial number. While a Rolex replica can copy a serial number, it's impossible to engrave it the same way Rolex does. Rolex engraves serial numbers using high-precision laser engraving techniques. For vintage models created before 1960, the serial number is found between the 6:00 lugs, while modern Rolex models feature the serial number on the rehaut—the inner bezel ring surrounding the dial. Always check your Rolex serial number against the certificate of authenticity. If you have a Rolex without a serial number or an incorrect serial number for the models, or one that appears etched into the watch, it's fake and should be returned and reported immediately.
3. Poor Crown Etching
Rolex's craftsmanship is superior to many watch brands, so it's nearly impossible for counterfeiters to imitate. If your Rolex Submariner or any other Rolex model does not include a tiny laser-etched crown on the glass at the six o'clock position or has a poorly etched or odd-looking crown, this is a red flag. This is one of the many marks Rolex has used since the early 2000s to show its authenticity. The crown can be difficult to spot, however, especially on light-colored watch dials. If you have trouble spotting it, try using a magnifying glass to pinpoint it.
4. Your Watch's Backside Is Suspect
To be sure you're getting a Rolex watch, look at the watch's case back. Apart from some earlier or vintage models, all Rolex watches have a smooth metal case back. If your watch has a clear backside or something else that doesn't match Rolex's smooth finishing, it's not to be trusted.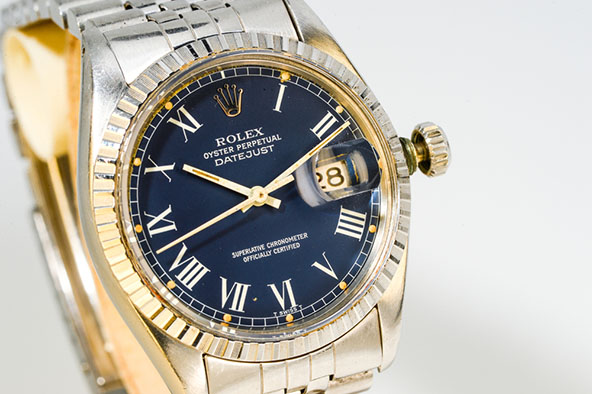 Source: Jitjaroen Channarong/Shutterstock.com
5. The Second Hand Doesn't Sweep Smoothly
Rolex adheres to the highest standards of quality and precision. They include a second hand to count off the seconds. If you notice the second hand has jerky movement, this could be a sign that it's powered by quartz movement, which means it's not a real Rolex.
6. Your Watch's Cyclops Is Lacking in Quality
The Rolex cyclops is a signature feature on their treasured timepieces. Patented and introduced by Rolex in the early 1950s, this magnifier was designed to magnify the date display by 2.5 times to make it easier to read. When observing the cyclops, you should notice it has a smooth and polished appearance. If not, or if the date display isn't magnified at all, your watch may be an imitation.
7. Questionably Priced
Rolex has long been famous for its exceptionally detailed and precise timepieces, and the brand's prices reflect that. If you get your Rolex watch for a low or questionable price, you may be buying a fake. Conversely, if you're being charged too high of a price for a watch that is clearly lacking in quality, the seller could be trying to deceive you.
Before you buy a Rolex watch, whether online or in-person, be sure to do your research. Compare the price of the model you're most interested in across many dealers to see the average price it's being sold for. If the watch you want to buy is significantly above or below this price point, the seller may be trying to sell you a fake.
Shop Our New & Used Rolex Watches
Source: Creative Lab/Shutterstock.com
The Takeaway
Checking for serial numbers, ticking sounds, and poor engravings is just one way to immediately assess whether your Rolex is real. You can take other steps to ensure you're buying an authentic Rolex watch, including working with a reputable and experienced jeweler such as Luxury of Watches.
All our Rolex timepieces come with a 5-year warranty and certificates of authenticity. Explore our selection of new and used Rolex watches, or call us at (213) 291-2130 and let us help you find the perfect watch to add to your collection.