At Luxury of Watches, we know that giving can be just as nice as receiving. We provide some of the finest jewelry gifts you can find anywhere. Whether you're seeking a gift for that special friend, a family member, or something nice for yourself, we've got you covered with timepieces from timeless to trendy. Check out our ultimate guide to holiday jewelry gifts.
Why a Luxury Watch Is a Perfect Gift for the Holidays
A high-end watch is a perfect gift for any occasion because it's simultaneously practical and luxurious. It's something that the recipient can use and enjoy every day, and a well-made timepiece will last for years or even decades. Furthermore, a prestigious watch is a status symbol and a sign of luxury, making it the perfect gift for those who appreciate the finer things in life.
A nice timepiece is functional but can also be worn as jewelry, adding a touch of glamour to any outfit. Ultimately, these are classic gifts that never go out of style. Whether you're looking for a timeless gift for your partner or parents or something flashy and new for your friends, a luxury watch is always sure to please.
Our collection of luxury watch brands is sure to have something that will appeal to even the most discerning tastes. From Swiss-made watches like Hublot, Omega, Rolex, and Tag Heuer to French watches from Cartier and American classics from Swiss-founded, USA-based Movado. We carry some of the most expensive watch brands available and the ultimate selection of watches for your budget or style preference.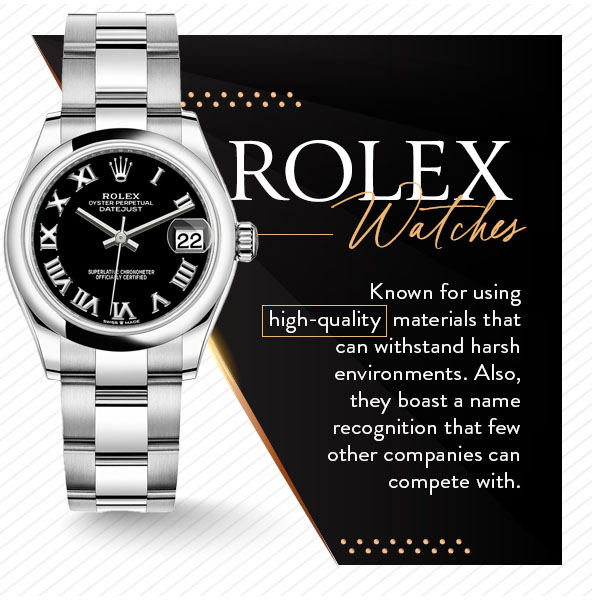 Rolex Watches
The name "Rolex" is synonymous with luxury, quality, and timeless elegance. What makes Rolex watches so special? The brand is known for using high-quality materials that can withstand harsh environments. Also, they boast a name recognition that few other companies can compete with. When someone unwraps a box and sees "Rolex," you can expect a strong reaction.
But owning a Rolex is more than just a status symbol. These watches are as wearable as they are beautiful. Whether you're looking for something classic like a Rolex Oyster Perpetual 28mm 276200B or a Rolex Datejust 31 Women's 278240BRJ, or some of their more modern designs such as the Rolex Lady Datejust 28mm Fluted Stainless Steel 279174PIFJ or the Rolex Oyster Perpetual 31mm 277200G, there's a Rolex watch to suit just about anyone's style.
Cartier Watches
Cartier is one of the most well-known brands, and with good reason. When the company was founded in 1847 by Frenchman Louis-François Cartier, it focused primarily on providing jewelry for people in elite circles. It wasn't until the early 1900s that the company rose to prominence in watchmaking, thanks to its unique designs and impeccable quality. The iconic Cartier watch is known for its Art Deco style, which is characterized by bold, geometric designs and intricate details.
Today, Cartier watches are often favored by celebrities and other high-profile individuals, and they come with hefty price tags. But for those who can afford one, a Cartier watch is a true investment piece that will last for generations. Their beautiful watches are a great way to add some elegance and style to any look. Gifting a Cartier watch will surely impress, whether it's a classic like the Cartier Tank Francaise WSTA0005 or a more modern design like the Cartier Pasha Women's WSPA0013. Add a hint of yellow gold with the Cartier Panthere Small W2PN0006 or the Cartier Ballon Bleu Women's W2BB0002. No matter your style, there's sure to be something in our collection of Cartier watches that will catch your eye and turn heads when the gift recipient wears it.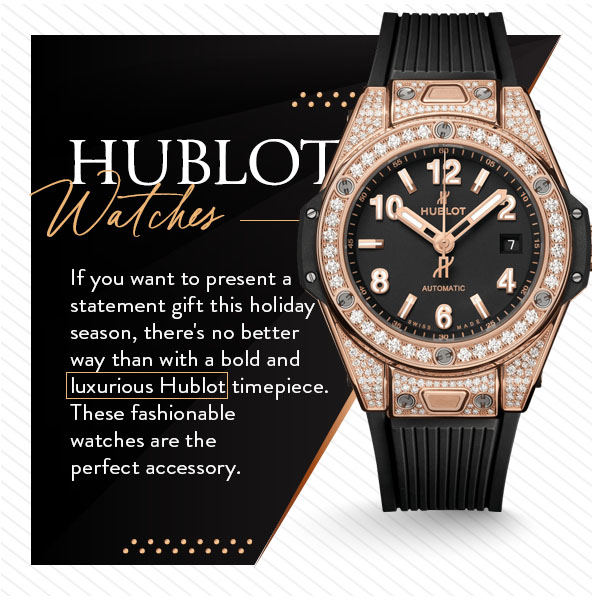 Hublot Watches
If you want to present a statement gift this holiday season, there's no better way than with a bold and luxurious Hublot timepiece. From the trendy Hublot Classic Fusion 33mm 581.CM.7170.LR to the timeless Hublot Classic Fusion Racing 38 565.NX.7071.RX, there's a Hublot watch to suit just about any taste. These fashionable watches are the perfect accessory for any look, whether your special somebody is dressing up or keeping it casual. And at Luxury of Watches, we've got a wide array of styles, colors, and brands from which to choose the ideal gift.
Audemars Piguet Watches
Audemars Piguet is another luxury watch brand that offers timepieces with timeless elegance and sophistication. Whether you're looking for something classic or a more modern design, there's an Audemars Piguet watch to suit your style. The Audemars Piguet Royal Oak 41mm 26331BC.ZZ.D002CR.01 and the Audemars Piguet Royal Oak Lady 41mm 26051OK.OO.1220OR.01 are both elegant and eye-catching, while the Audemars Piguet Royal Oak Offshore 42mm 26265AU.ZZ.D002CR.01 and the Audemars Piguet Royal Oak Offshore Ladies 42mm 26173AU.ZZ.D101CR.01 are both bold and fashionable, making them great choices for any fashion-forward individual this holiday season.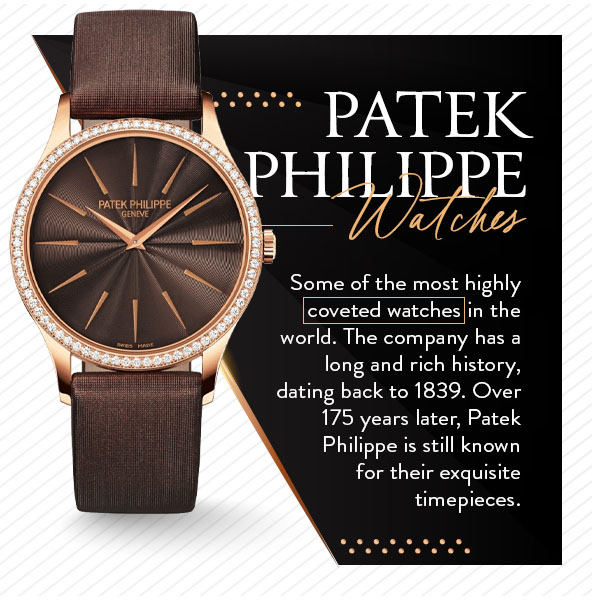 Patek Philippe Watches
When you think of luxury watches, Patek Philippe is one of the first names that comes to mind. These are some of the most highly coveted and sought-after watches in the world. The company has a long and rich history, dating back to 1839 when it was founded by Antoni Patek and Adrien Philippe. The two men were passionate about horology and dedicated their lives to creating the finest watches in the world. And over 175 years later, Patek Philippe is still known for their exquisite timepieces that are prized by collectors and luxury enthusiasts around the globe. Known for their distinctive and timeless designs, these high-end timepieces are sure to impress even the most discerning gift recipient this holiday season. The Patek Philippe Calatrava 5227R-001 is a classic and elegant design, while the Patek Philippe Nautilus 5980/1AR is bold yet sophisticated. Both watches are eye-catching and sure to turn heads wherever you go.
Breitling Watches
Breitling is a luxury watch brand that's designed for those who love adventure and prefer something more bold and eye-catching. Check out their classic and sleek designs like the Breitling Colt 33mm A7338312/C782, or find modern looks such as the Breitling Superocean 44mm A173902D31BD1. With its glamorous eye appeal, a Breitling watch would be one of the most memorable holiday gifts someone could ever receive.
Breguet Watches
Breguet watches are some of the most luxurious and prestigious timepieces in the world. They're known for their iconic designs, high quality, and exquisite craftsmanship. Dating back to 1775, when Abraham-Louis Breguet opened his own watchmaking workshop in Paris, France, he quickly gained a reputation for his excellent watches, which were prized by royalty and the aristocracy. Over the years, Breguet has continued to create some of the most beautiful and timeless watches ever made, such as the Breguet Men's Classique Manual Wind 5907BA12984 and the Breguet Reine De Naples Women's 8967ST/51/986. If you're looking for a luxurious and exclusive gift this holiday season, a Breguet watch is sure to impress.
Shop All Our Luxury Watch Brands
Final Thoughts
This holiday season, don't miss out on the chance to show your loved ones just how much they mean to you by giving them the gift of luxury and style. From Rolex and Cartier to Tag Heuer and Chanel, there are so many great options to choose from. If you want to make a big impression this holiday season, check out our collection at Luxury of Watches or contact one of our specialists.
Image Credits
DEVIN VERVENA/Shutterstock.com
TMvectorart/Shutterstock.com