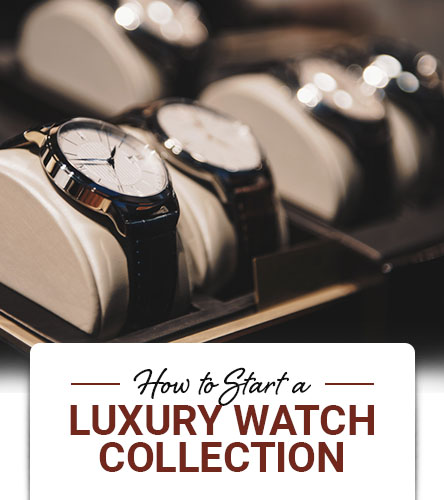 Few accessories hold as much power as the luxury wristwatch. Not only is this practical collectible made to tell time, but it's also made to signify style, success, and esteem. On top of that, a good-quality chronometer can be an excellent investment, just as long as you know which one to buy and how to take care of it.
In this guide from Luxury of Watches, we're covering everything you need to know to get started with your first set of luxury watches, from that very first purchase—known as "the gateway watch"—to keeping your collection in like-new condition so it's passed along to the next generation and enjoyed for centuries to come.
Why Collect Luxury Watches?
If you're in the market for a worthy collection that provides a thrill like no other, we encourage you to consider high-end watches. Why? It's all about the hunt! These watches are coveted the world over and are often cherished and babied, which means there is a massive new and pre-owned market in just about every corner of the globe. You could buy new luxury watches online or stumble upon your white whale at a flea market or estate sale. You just never know!
Watches are also unique in that, while they're definitely considered works of art, they serve a purpose, too—to tell and keep time. This means you'll want to wear them, making your venture all the more valuable. Plus, coveted chronometers can be a great investment, and one that could even earn you a profit if you play your cards right. The best part? These babies are stunners, plain and simple. Who wouldn't want to flex a rare Rolex or a striking Patek Philippe?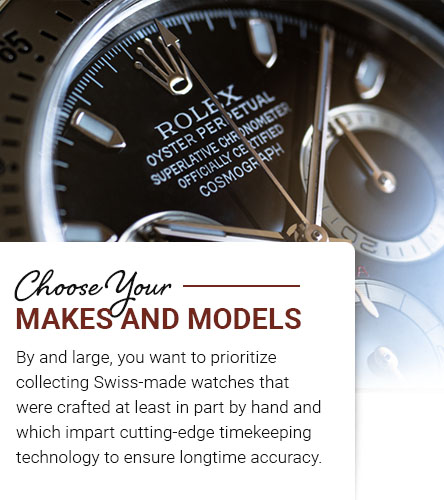 Step One: Choose Your Makes and Models
At the heart of any well-designed collection of luxury watches is the maker. For a solid collection that retains its value, you want to choose genuine luxury timepieces by manufacturers that have—forgive the pun—stood the test of time. By and large, you want to prioritize collecting Swiss-made watches that were crafted at least in part by hand and which impart cutting-edge timekeeping technology to ensure longtime accuracy. After all, the goal is to keep these clocks in the game for years into the future.
Pepper your collection with styles from the following brands, and you'll be in a great position to meet that goal.
Note: the prices listed below reflect the prices at Luxury of Watches. You will likely pay a premium for purchasing from the manufacturer or going through a jeweler.
Discover All of Our Luxury Watch Options
Rolex
Price Range (New): $5,000+
Origin: 1905, London
Country: Switzerland
Notable Wearers: Paul Newman, Eric Clapton, Orlando Bloom, Winston Churchill, Martin Luther King Jr., Elvis Presley, John F. Kennedy, Barack Obama
Notable Models: Submariner, Daytona, GMT-Master II, Yacht-Master, Datejust, Day-Date, Explorer, Oyster Perpetual, Sky-Dweller, Sea-Dweller, Lady-Datejust
Overall Style: Consistently classic, instantly recognizable, sporty, professional, opulent
Description: Archetypical of modern luxury, Rolex watches are among the most recognizable in the world, offering a consistently classic, professional, and high-end aesthetic. They're known for their reliable Swiss movements and many cutting-edge watchmaking innovations.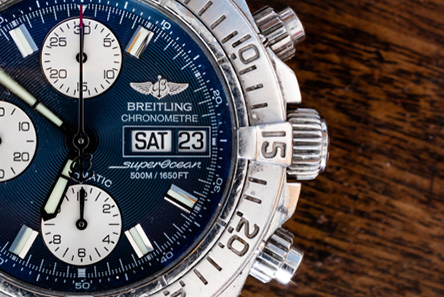 Breitling
Price Range (New): $2,740+
Origin: 1884; Saint-Imier, Switzerland
Country: Switzerland
Notable Wearers: Jerry Seinfeld, John Travolta, Dave Chapelle, Tom Cruise, Bruce Willis
Notable Models: Aviator, Avenger, Chronomat, Navitimer, Colt, Superocean, Chronospace, Aerospace, Transocean, Emergency
Overall Style: Precise, durable, aviator-inspired
Description: Originally designed specifically for aviators, Breitling watches bring a certain kind of posh practicality apropos for pilots—including fighter pilots—as well as divers and adventurers.
Omega
Price Range (New): $2,000+
Origin: 1903; La Chaux-de-Fonds, Switzerland
Country: Switzerland
Notable Wearers: Daniel Craig, George Clooney, Tom Hanks, Steve Carell, Ryan Reynolds, Buzz Aldrin, Cindy Crawford
Notable Models: Speedmaster, Seamaster, Constellation, De Ville
Overall Style: Beautiful, durable, luxury, sporty
Description: Rocked by none other than James Bond himself, Omega watches are a good choice for first-time collectors. This brand's history is steeped in military-grade constructions and reliable performance, which is why their watches have been worn by combat units in the Royal Flying Corps and the U.S. Army. The Omega Speedmaster Professional was worn by Buzz Aldrin on Apollo 11, making it the first watch on the moon.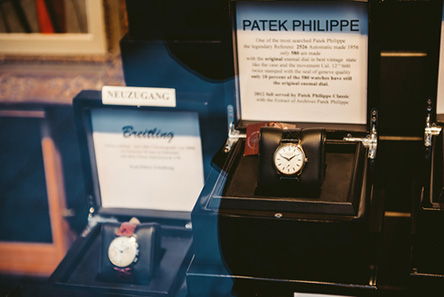 Patek Philippe
Price Range (New): $10,700+
Origin: 1839, Geneva
Country: Switzerland
Notable Wearers: Paul McCartney, Ringo Starr, Duke Ellington, Pablo Picasso, Elizbeth Taylor, Andy Warhol, John Mayer, Eric Clapton, Charlie Sheen, Brad Pitt, Ryan Gosling, Walt Disney, Albert Einstein, Nelson Mandela, Marie Curie, Leo Tolstoy, Queen Elizabeth II
Notable Models: Nautilus, Aquanaut, Calatrava, Gondolo, Golden Ellipse, Twenty~4, Grand Complications, Complications
Overall Style: Traditional, classic, sophisticated, opulent, artsy
Description: As some of the most expensive luxury watches, Patek Philippe watches are well-known for their complicated Swiss mechanisms. This brand has a unique reputation as a favorite among some of the world's greatest thinkers—Einstein, Curie, Tolstoy, and Mandela are noteworthy Patek Philippe owners—as well as freethinking artists and eclectics alike.
Audemars Piguet
Price Range (New): $13,300+
Origin: 1875; Le Brassus, Vallée de Joux, Switzerland
Country: Switzerland
Notable Wearers: John Mayer, Kim Kardashian, Tom Cruise, Jay-Z, LeBron James, Serena Williams
Notable Models: Royal Oak, Royal Oak Concept, Royal Oak Offshore, Millenary, Classique, Jules Audemars, Haute Joaillerie
Overall Style: Exclusive, opulent, high-tech, avant-garde
Description: Known for their octagonal bezels and game-changing timekeeping innovations, Audemars Piguet is well-respected among watch enthusiasts for debuting the world's first skeleton watch (1934) and creating ultra-thin styles, including the thinnest watches in the world.
Hublot
Price Range (New): $4,000+
Origin: 1980, Switzerland
Country: Switzerland
Notable Wearers: Jay-Z, Kylie Jenner, Beyoncé, Kobe Bryant, Usain Bolt, Alex Rodriguez
Notable Models: Big Bang, King Power, Classic Fusion
Overall Style: Trendy, high-end, bold, masculine, prestigious
Description: Known for their stunning, porthole shape—hublot means "porthole" in French—Hublot watches (pronounced oo-blow) are among the coolest luxury timepieces around. Beloved by trend-setters and sports icons, Hublot is the youngest player in the luxury watch game, but it's no less impressive.
TAG Heuer
Price Range (New): $850+
Origin: 1860; Saint-Imier, Switzerland
Country: Switzerland
Notable Wearers: Tom Brady, Christiano Ronaldo, Tiger Woods, Leonardo DiCaprio, Jeff Gordon, Steve McQueen, Cameron Diaz
Notable Models: Aquaracer, Autavia, Carrera, Formula 1, Heritage, Link, Monaco, Connected
Overall Style: Reliable, racing-inspired, sporty, fast
Description: An ideal entry-level luxury watch, TAG Heuer is an approachable name that doesn't compromise on style or performance. This beloved Swiss maker once manufactured dashboard timepieces for cars, planes, and boats, and its reputation in transportation—specifically racing, including Formula One racing—persists today.
Other luxury watch brands to consider: Panerai, Vacheron Constantin, Cartier, IWC, Richard Mille, Blancpain, Bell & Ross, Ball, Jaeger-LeCoultre, and Ulysse Nardin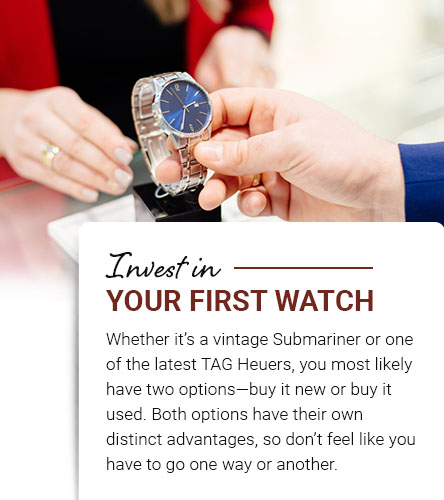 Step Two: Invest in Your First Watch
Have an idea of which gorgeous timekeeper you want to use as the cornerstone of your collection? Good for you! Whether it's a vintage Submariner or one of the latest TAG Heuers, you most likely have two options—buy it new or buy it used. Both options have their own distinct advantages, so don't feel like you have to go one way or another. In fact, the vast majority of collectors we work with have a mix of brand-new and pre-owned timepieces. Here's a snapshot of the pros and cons of buying pre-owned luxury watches versus new ones:
Buying New – You can buy new luxury watches from an accredited jeweler or seller, such as Luxury of Watches. The benefits of buying brand-new abound, but you will pay a premium when you drive it off the lot, so to speak. However, if your goal is to obtain and maintain watches in the best condition possible, you simply can't beat being the first owner.
New watches come to you in pristine condition with zero defects.
New watches may have a higher resale value due to the fact that they have had fewer owners (you and the person you sell it to in the future).
New watches typically come backed by a longer warranty.
New watches always come with the original box and paperwork.
New watches always have all their original parts.
Buying Pre-Owned – Surprisingly, there are tons of pros to buying high-end watches used, but there is one caveat: You must always purchase from a reliable seller. Look for a store that offers accreditation and requires each piece to go through a rigorous certification process. Luxury of Watches is a trustworthy retailer of used Rolex, Patek Philippe, Omega, and more.
Pre-owned watches are generally more affordable, so you can get multiple watches for the price of one brand-new or something extra-special for the price of a brand-new baseline style.
Pre-owned watches may be more valuable, primarily if they are vintage, one-of-a-kind, or come from a notable collection.
As long as you purchase from a reliable dealer, pre-owned watches are generally certified authentic and inspected in-depth for imperfections.
Some pre-owned watches come with additional warranties.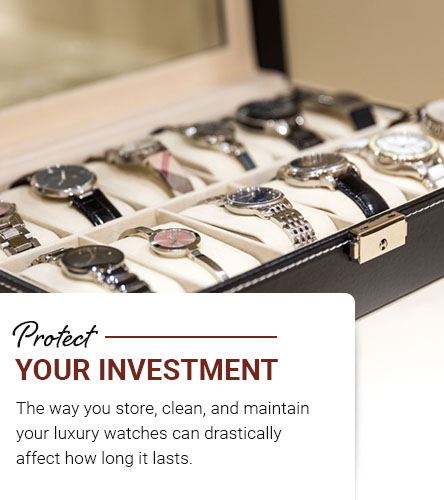 Step Three: Protect Your Investment
Once you've sunk your investment funds into that very first chronometer, it's time to get serious about protecting it for the long-run. The fact is that all serious timepiece collectors are as concerned with preservation as they are style, reference number, and history. This is true of all high-end accessories, but especially true if you're lucky enough to land something particularly special or rare. The way you store, clean, and maintain your luxury watches can drastically affect how long it lasts.
Here's what you need to know to protect your prized pieces:
Have It Insured – It's a good idea to have your entire watch collection appraised and insured so that, should something happen to it, you're not left with nothing to show for it. Of course, even the full monetary value of a special piece cannot stand in for the piece itself, but it can be a small consolation that you can use to reinvest in your collection.
Store It Properly – Make sure you know how to properly store your luxury watches. Each coveted timepiece should have its own felt-lined watch box that's free of dust, dirt, humidity, and exposure to extreme temperatures. If you wear it regularly, you might consider storing it on a watch winder to keep the time and date current, but beware that this can cause unnecessary wear and tear on the movement and bracelet.
Maintain as Needed – Watches are unique in that they are two important things in one—a high-tech piece of equipment and a dazzling piece of jewelry. That means they require some periodic maintenance, both from a horologist and a jeweler. It's important to have a good relationship with a trustworthy watch expert who can routinely clean and repair your collection. It helps if the professional has experience with your preferred watch brands.
Inventory Your Collection – Be sure to inventory your watches in detail with a cloud-based spreadsheet saved in multiple locations. For each one, record the make, model, reference number, type, purchase date, price, movement type, materials, band size, and any notes regarding service, repairs, and maintenance. This will help you keep track of all activity while also giving you an idea of the total value of your assortment.
Share Your Collection – Part of the fun of owning an amazing collection of luxury watches is sharing it with other collectors. There are active communities of watch collectors on Instagram, Facebook, Reddit, and many popular watch forums. Not only will this keep you engaged with the collecting community, but it will also help you keep your collection well-documented.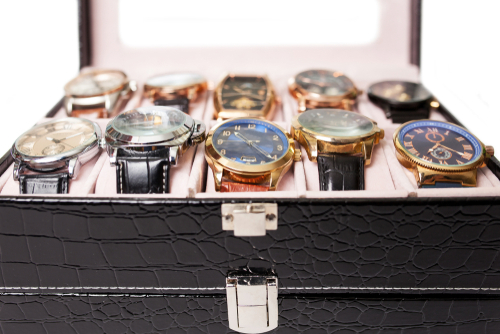 Step Four: Repeat
Once you've completed all of the above steps and scored the first piece in your collection, it's time to restart the process until you've got a watch box like no other. No matter if you're shopping new or pre-owned, trust Luxury of Watches to help you find authentic luxury watches at an excellent price point. With free shipping and exacting certification standards, we're pros at helping timepiece aficionados kickstart and maintain a collection for life.