As a watch collector or someone who enjoys wearing luxury watches, you understand the importance of looking after your treasured wristwear. Whether you need to adjust your watch strap over time to ensure the right fit and comfort or you enjoy swapping between steel or leather bands, you will need to resize your watch.
Depending on the watch, you may be able to resize it on your own with just a few tools and patience. However, if it's a more complicated metal watch band or you lack the tools or time, you may be better off taking it to a professional to get it adjusted. When resizing your Audemars Piguet watch with metal strap links, for instance, you may wish to get it professionally adjusted to avoid scratching or compromising your thin but magnificent timepiece. Whatever route you choose, here are the dos and don'ts of resizing your watch strap.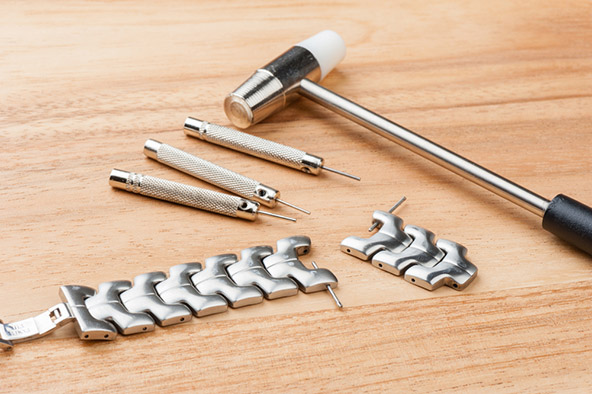 Source: Nor Gal/Shutterstock.com
Dos for Resizing Metal Watch Bands
Most watch bands that need to be resized have steel bands. These intricate strap links are connected with pushpins, so the pushpins need to be removed to shorten the watch strap. Here's what you should do if you want to adjust your metal watch band on your own.
Get a Strap-Changing Tool
Strap-changing tools, like adjusters, can make resizing your watch strap much easier. Consider getting an adjuster with a fork attachment for use on spring bars and a pusher for removing metal links on watches without spring bars.
Use a Flat Surface and Cloth
It's important to have a flat surface to work on with plenty of workspace. You should use a cloth or towel to protect your watch from sliding around and getting scratched and to stop tools or pins from rolling away.
Always lay your watch face down on the cloth and work from the back so that if your hand slips or you accidentally scratch your metal band, the scratches won't be visible on the outward-facing side of your strap.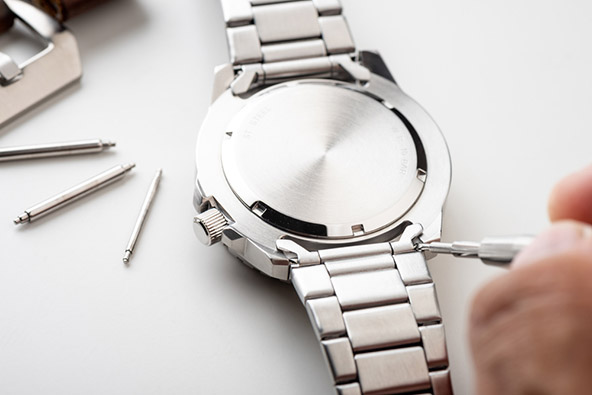 Source: Nor Gal/Shutterstock.com
Carefully Remove the Strap and Shorten
To remove your watch strap using an adjuster, insert the forked end of your tool between the strap and lug, and gently apply pressure away from the lug. As you add pressure, push down slightly to allow the bar to pop out.
On the inside of the watchband, you should see small arrows on some links. This is the only direction the links' pins can be removed. The arrow should point to the side, and the pins must go through. When tapping the pin back, be sure to put the split side of the pushpin in last. To shorten the strap, put the watch band with the arrows pointing toward the slot, turn the adjuster handle to push the pins out of the strap, and remove an equal amount of links on both sides. Keep in mind that it requires a fair amount of force to remove the pins because they are held in place by friction.
If you're adjusting your strap with your own tools, you'll need a screwdriver and hammer. If you have a set of screwdrivers, this offers a selection of sizes so you can get a perfect fit and remove the links without causing damage. Ensure the watch strap with the arrows pointing down is placed over a thick piece of carpet. Then, use a small hammer on the pins to get the pushpins out of the watch strap. Next, remove an equal amount of links on both sides of the strap.
Don'ts for Resizing Metal Watch Bands
While steel watch bands can be resized at home with some common tools and patience, the process can be tedious. When in doubt or frustrated, don't fix it yourself. You can take your timepiece in to get it professionally adjusted for a reasonable cost. This way, you won't have to worry about damaging your prized possession or losing pins or links.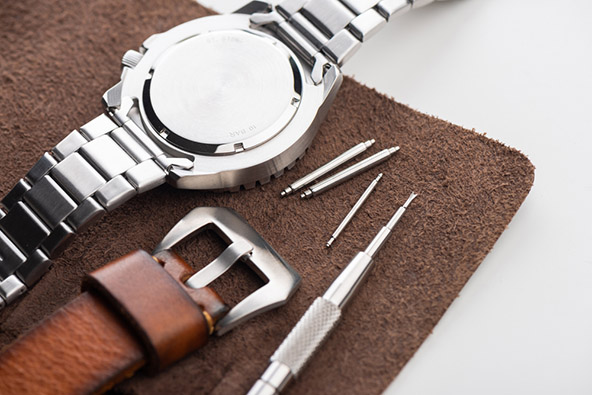 Source: Nor Gal/Shutterstock.com
Other Watch Bands You Can Adjust
Outside of metal watch straps, you may need to resize your Milanese or stretch wristwatch. You can perform these adjustments with the proper tools, such as a thin screwdriver or adjuster and a pair of tweezers for picking up small pins on stretch bands. However, you can always visit your jeweler to have them perform these adjustments for you and help you achieve the perfect fit.
Shop Our Selection Of Luxury Watches
Add to Your Watch Collection
Build your watch collection with premium new and used timepieces available at Luxury of Watches. From Rolex to Audemars Piguet to Patek Philippe, we carry high-end brands, which come with generous warranties and certificates of authentication. Explore our range online or call us at (213) 291-2130 for more information about our collections.