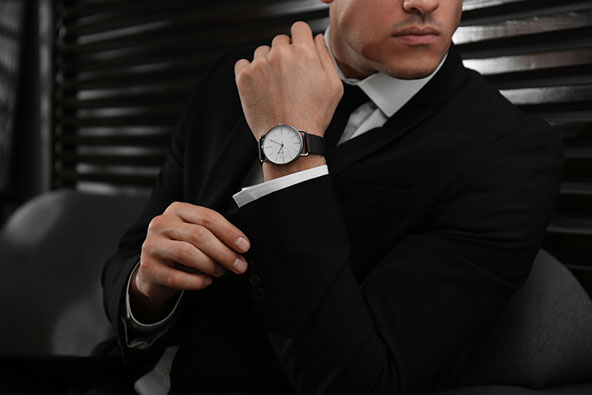 Source:New Africa/Shutterstock.com
Whether you are seeking a gift for your dad or want to treat yourself, elegant men's watches demonstrate impeccable quality and taste. However, how do you discern if a particular watch is elegant? While you'll probably be in good hands if you choose an established name, such as a Cartier watch, it's important to understand what makes a timepiece stylish and sophisticated. Crafting materials are the foundation for a watch's elegance. They contribute to the piece's style and expression. A watch's design puts the finishing touches on sophistication and formality. Although quality goes together with elegance, the former is no guarantee of the latter.
Why Get an Elegant Men's Watch?
An elegant watch can be a status symbol and a fashion statement. You might gift a dress watch to illustrate your value, respect, or admiration for a person. Your purchase of an elegant watch for your own use supports formal attire. As understated as they usually are, luxury dress watches are eye-catching. They say a lot about your self-worth and fashion sense. Furthermore, expensive watch brands imply wealth, power, and elevated social status. People buy elegant watches for several reasons besides gifts or for personal use. Like other jewelry, prized watches can become heirlooms passed on through generations. They can also serve as secure investments. Patek Philippe men's watches, for example, hold their value or tend to appreciate over the years. All elegant watches have certain features that distinguish them from cheaper versions.
Quality Crafting Materials
Luxury brands often craft their watches with 18K gold. However, stainless steel, titanium, and platinum are also used in high-quality timepieces and do not make them any less elegant. A steel Rolex watch, for example, is comprised of Oyster steel. This is a stainless-steel alloy that incorporates nickel, copper, and other metals. The secret of any material in an elegant watch is that it should have a characteristic gleam. Since the premise of elegance is quality, dress watch materials are durable. They resist corrosion and water to varying degrees and depths.
Check Out Our Exclusive Dress Watch Collection
Sophisticated Designs
Men's elegant watches frequently exhibit refinement. They achieve this with a streamlined and simple-looking design. A watch that aims to achieve extraordinary finesse has an exceedingly thin case. It also frequently has a leather strap, making it look more understated than the flashier metal bracelets. Adding to its simplicity is a black or white and unadorned dial.
Black-tie watches are more subdued than those you would use in an office setting or on a job interview. An elegant watch can have a circular or rectangular dial. Classic dress watches typically have little other than the basic functional necessities. However, bolder watches can still be elegant. They may have smoky, charcoal, or brown dials. You can see rare gems inserted in strategic locations. More intricate time displays appeal to many collectors, with the luxury Rolex Date making Luxe Digital Lifestyle's top 115 list of men's watches.
Three of the Most Elegant Men's Watches
You have numerous options when you search for an elegant watch. You can even peruse pre-owned watches which retain the formality and beauty of a brand-new timepiece. Different brands offer features that appeal to a variety of tastes.
Rolex Oyster Perpetual 36mm 126000L
The Rolex Oyster Perpetual 36mm 126000L has quality and class as illustrated by the brand's signature Oyster Stainless Steel bracelet and steel case. Its dial defies tradition with its deep blue color and silver time markers and Roman numerals. This watch has a self-winding mechanism that uses energy when you move your wrist. It is resistant to 100m, enabling you to swim while wearing it.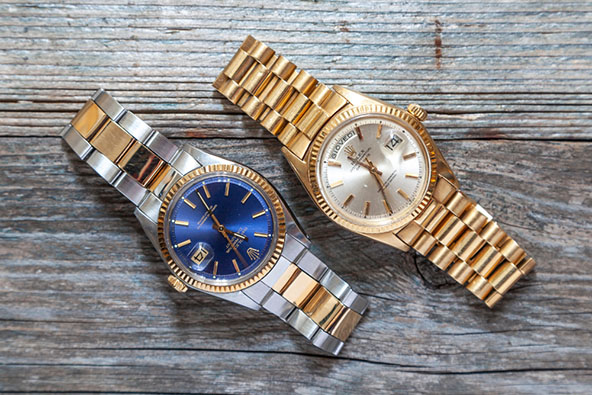 Source:marino bocelli/Shutterstock.com
Patek Philippe Calatrava 4897R-010
Embracing the epitome of class, the Patek Philippe Calatrava 4897R-010 has a satin bracelet and an 18k rose gold case. It sports a silver dial with 72 tiny diamonds lining the bevel. The dial is 33mm in diameter and its cream color complements the pearl-white strap and contrasts the gold hour markers and branding.
Cartier Tank Louis Large w1529756
Despite its name, the Cartier Tank Louis W1529756 is an elegant quartz watch with a thin 18k yellow gold case. Its rectangular 33 mm-long dial is also lined with an 18k gold bevel. The display includes black Roman numeral hour markers lining a square of minute markers. A small window inside the quarter-hour marker designates the current minute. The brown leather bracelet has a deployment clasp.
Source:Portal Satova/Shutterstock.com
Discover All of Our Luxury Watches
Conclusion
Materials and designs are the most important factors that determine the elegance of a luxurious men's watch. Tradition, motivation, and brand names are the driving forces behind choosing a style to fit formal wear. An elegant timepiece serves to support your outfit's star role, elevate your social status, and define you as a person of taste and sophistication.