The world of luxury watches is expansive and, if you're new to it, it can be difficult to familiarize yourself with the terminology and features to look for. With such a wide range of watch styles and mechanisms, name brands and price tags, and more, you may be asking yourself, "Where do I start?"
Luxury watches always promise one thing: quality. If you want to ensure you're getting the best of the best but want to find something at a lower price point, consider starting with pre-owned Rolex watches. Pre-owned watches can help you attain the most sought-after watches with greater affordability so you can begin your very own luxury timepiece collection. Plus, you'll save money upfront and may even make some money if you decide to sell the piece later. If you're a watch novice, here's a luxury watch guide for beginners with the four best starter watches.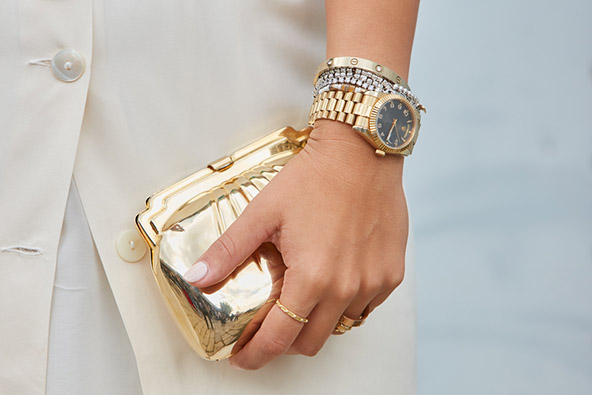 Source: andersphoto/Shutterstock.com
Discover Our Entire Luxury Watch Collection
What to Look for in Starter Watches
For a great entry-level starter watch, convenience, style, and fit are all critical factors. A convenient watch should be durable and easy to use. It also should be a watch that fits most occasions, whether you're at the office, a formal dinner, or spending a casual day out on the town. While there's a timepiece for nearly every occasion, having a watch that is versatile and can pair well with a casual or dressed-up look is a great place to start.
Besides convenience, you want your luxury watch to be fashionable. Whether it's for work or formal events, you and your watch should exude style. Knowing what type of watch to pair with which attire can help you achieve just that. For instance, pairing a dress watch with a sleek suit or dress can help you pull off a sophisticated and high-end look. Alternatively, knowing how to style your timepiece with a more casual outfit can help ensure you pull off a coordinated look.
A general rule for luxury watch beginners is that a watch 35 to 40mm in length is considered fashionable. You'll find these types of watches use neutral tones, and the design focus is on the watch's dial. Another critical component to a quality starter watch is the fit. A well-fitting watch depends on your wrist size, so knowing your wrist measurements can help you find the best fitting timepiece. If you can't immediately measure your wrist, you might start with a diameter somewhere between 36 and 42 mm for a smart-fitting range. Thirty-six-millimeter watches offer a subtle and modest look, while 42mm is an impressive size for larger watch faces without looking too gaudy or large for your wrist.
However, it's always best to get exact measurements, so you don't risk wearing a too-loose watch or an overly large and clunky dial. Alternatively, wearing a watch with a too-tight band may cause discomfort or not fit at all, and a dial that's too small can make it nearly impossible to read and keep the time.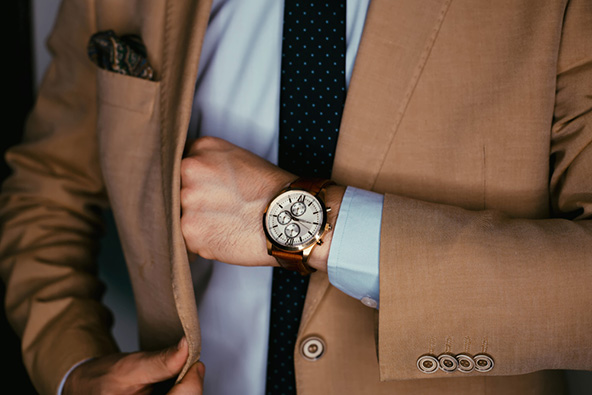 Source: Claudia K/Shutterstock.com
Best Starter Watches Based on Price and Quality
Beyond the convenience, fit, and style factors, your beginner luxury watch should maintain quality while offering affordability. Here are some of the best luxury watches that deliver on both price and quality.
1. Cartier Tank Solo Small W5200024
Cartier watches are a superb choice for anyone looking for quality timepieces. This long-standing brand is well respected and known as the "Jeweler of Kings" for its exclusive diamond and gem-encrusted pieces. Even with these luxurious additions, they offer watches at a reasonable price point.
The Cartier Tank Solo has a distinctive triangular shape that watch wearers have adored for generations. While slightly smaller in size, its substantial Roman numerals make it easy to read the time. This watch is designed to swap leather straps, offering the wearer a variety of strap colors to choose from to pair with any attire.
2. Breitling SuperOcean Heritage II Chronograph 44 A13313121B1S1
Breitling watches offer beautifully crafted, quality watches that suit many personalities and styles. And, best of all, they offer a handful at accessible prices for those just beginning their watch collection.
The Breitling SuperOcean Heritage II is a great size for many individuals, including those with smaller wrists. It offers a slightly more weighted feel, which can add to its feeling of quality and opulence. It comes with a rubber bracelet, making it perfect for a more active lifestyle or casual look.
3. IWC Portugieser Chronograph IW371604
Watches made by the International Watch Company, or IWC, are among the world's most famous luxury watches and are considered by many watch wearers to be a reliable brand. IWC watches are known especially for their highly sought-after pilot watches.
Timepieces from the IWC Portuguese collection are some of the best starter watches. In particular, the IWC Portugieser Chronograph is a great value, priced lower than its original, and offers a timeless look with superb dimensions. It comes in striking colors, including metallic blue, green, and burgundy, and its gold numerals and hands contrast beautifully with the silver dial for a classic look. It offers a simple yet distinctive design that makes it a great all-around beginner's watch.
4. Rolex Women's Datejust Stainless Steel Black Roman Dial
Rolex watches are one of the most famed watch brands. When you consider your timepiece as an investment, Rolex watches come at excellent value and offer a fantastic long-term investment, as they appreciate over time. Buying a pre-owned Rolex can offer you the authenticity and grandeur that comes with wearing a Rolex but at a more affordable price point.
The Rolex Datejust Stainless Steel Black Roman Dial is an excellent entry-level watch option, perfect for anyone working with a limited budget or looking for an understated look. These classic dress watches can be worn for almost any occasion and come in a range of dial colors, including black, white, silver, pink, and blue.
Source: Bondart Photography/Shutterstock.com
The Final Word
As a newcomer to the world of luxury watches, there are many watch options available to you, and it's hard to know where to start. By opting for brands such as Rolex, IWC, Cartier, and Breitling and looking into pre-owned watches, you can ensure you're getting a quality timepiece that's both fashionable and high-quality.