Luxury watches can become family treasures. The best timepieces end up being passed down through the generations while gaining value at the same time.
Source:Addoro/Shutterstock.com
If you're curious about the value of an heirloom, such as a Patek Philippe watch, it's time to look deeper into this subject. Learn all about the most iconic watches that withstand the test of time.
1. Breguet Reine de Naples Women's 8967ST/V8/986
From the moment you gaze at this timepiece, you'll know it's iconic. The Breguet Reine de Naples Women's 8967ST/V8/986 watch has an oval face with oversized 6 and 12 o'clock numbers. In fact, the case shape might remind you of an egg, which gives this watch a unique place in your collection.
The face isn't just a designer color, either. It's inlaid with mother-of-pearl stone. As a family heirloom, this watch overshadows many others with its eye-catching design. A leather bracelet and 18K white gold round out this watch's beauty.
If you're interested in this watch or any others, our Luxury of Watches inventory will serve you well.
Shop All of Our Luxury Watches
2. Patek Philippe Twenty-4 4910/1200A-011
It's hard to take your eyes off the Patek Philippe Twenty-4 4910/1200A-011 watch. It has a rectangular face that sits flush with the stainless-steel bracelet. This watch boasts a simple symmetry that looks spectacular with a casual or formal appearance.
The dial that you might mistake for black is a deep green hue. Its neat features allow you to see the hours with unmistakable clarity, which is a plus for a timepiece passed down through the family.
Another reason why this watch withstands the test of time is the embedded diamonds flanking the face. They remain tiny and subtle but add another level of elegance to this design found at Luxury of Watches.
3. IWC Portugieser IW390703
Distinguished design is how the IWC Portugieser IW390703 stands the test of time. IWC uses a mixture of rose gold and stainless steel to create a contrasting set of colors on this watch. Both materials catch the light and give you an attractive way to check the hour.
Unlike the IWC Pilot, this line of watches has a lighter and brighter appearance. The silver dial allows you to see the time and two inset dials, which is helpful as the timepiece ages. With a little care, the face will always be clear and ready to be worn as a luxury accessory.
4. Cartier Ballon Bleu WJBB0034
When you think of classic watches, the Cartier Ballon Bleu WJBB0034 comes to mind. With Roman numerals adorning the dial, this timepiece might remind you of the family's grandfather clock.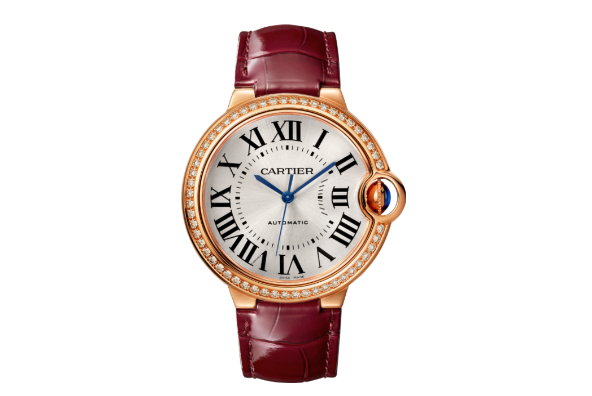 The crown has a beautiful cap that keeps it safe from bumps. However, the real beauty lies in the diamonds surrounding the bezel. This Cartier watch captures the company's history with one product on your wrist.
5. Jaeger-LeCoultre Master Ultra Thin Moon 1368480
A stunning timepiece is defined by the Jaeger-LeCoultre Master Ultra Thin Moon 1368480 watch. Its blue dial and black bracelet create a contrast that draws the eye from across the room.
The silver hour markers make the dial a neat read when you're on the go, too. Its minimalist design works well in almost any casual or formal setting.
How Do Watches Appreciate in Value?
Buying a luxury watch is as much a fashion statement as it is an investment. You might spend four or five figures on a name-brand timepiece, such as a Jaeger-LeCoultre watch. Take care of this item so that it can appreciate in value.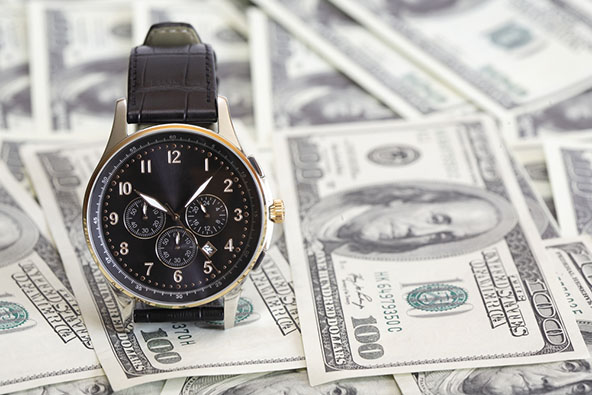 Source:Cosma/Shutterstock.com
Follow the watch's specifications, such as its limitations on water submersion. Wear the watch when the time is appropriate too. Any rough times with the watch will show on the exterior surfaces.
Keep the watch clean, and avoid any damage to the crown or bezel. Dents or missing stones on timepieces will reduce their value.
Quality Leads the Way for Iconic Watches
A combination of distinct design, mechanical genius, and care can turn your timepiece into a valuable treasure. Take care of your watch to see how it stands the test of time.