Your watch is a key element of your style. It accentuates a custom-fitted suit while also lending an air of importance to your casual weekend attire. If you are thinking about a new watch purchase, you need to know how to measure your watch size correctly. Once you know your fit, you'll be able to effortlessly choose the perfect watch to add to your collection.
Measure Your Wrist
Your wrist circumference is important in determining which size of watch casing looks best on your wrist. First, you'll want to decide what hand you wear your watch on. Measure around your wrist on this hand, staying half an inch away from the joint. The tape measure should circle your wrist where the centerline of your watch would be. If you don't have a flexible tape measure, you can use a strip of paper or string to measure the size of your wrist.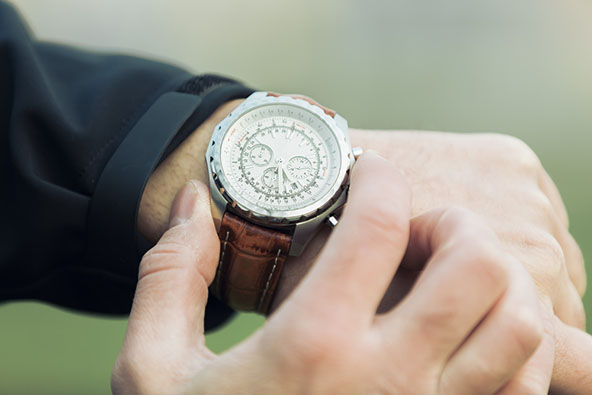 Source: iTref/ Shutterstock.com
Determine Your Case Size
The watch case includes the face of the watch, as well as the housing for the battery and other working parts. It's measured by taking the diameter from the outer edges at the widest point of the watch. The watch case is your watch's most significant feature and must be sized appropriately.
If your wrist circumference is less than 6", shop for watches with small cases to ensure comfort. A vintage Cartier watch can have a case size between 34-36mm, which will work well on your wrist. Modern case sizes are typically larger. You should shop for modern watches with a case size of 40mm or less. If your wrist is between 6"-7.5", midsize and standard watch cases will work well for you. When shopping, look at watches with a case size between 38-42mm.
Those with a wrist circumference greater than 7.5" will look best with oversized or extra large watch casings. Oversized watch casings are usually 44-46mm in size. Casings larger than 46mm are available but can be overly heavy and difficult to style appropriately.
Consider Case Thickness
The next step to determine your watch size is to think about case thickness. Larger cases often mean thicker cases as well. This can add to the bulk of the watch, making it heavy. Added thickness can make it difficult to style with clothes as well, as form-fitting suits and long sleeves get caught on thicker cases. For watch cases less than 42mm wide, you should look for a case thickness of 7mm or less. A case thickness of mm is acceptable for cases larger than 44mm.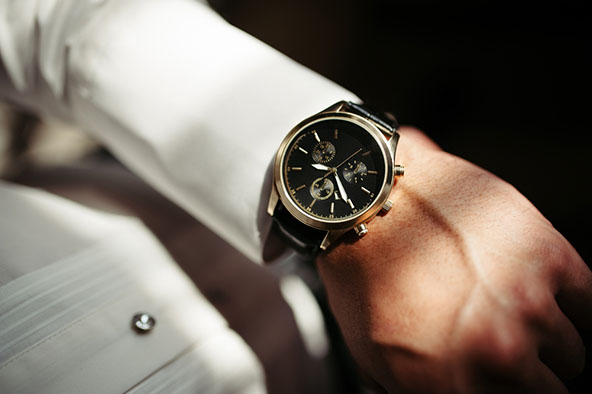 Source: AVANGARD photography/ Shutterstock.com
Choose Watch Band Thickness
Your watch band plays a vital role in the overall appearance of your watch. A watch band that is too wide adds unnecessary weight to the watch that can overpower the wrist. The ideal width of a watch band is about ½ the case diameter. For example, a 42mm watch case looks best with a watch band that is 22mm wide.
Find the Perfect Rolex for Your Wrist
Picking Your Next Watch
Although your wrist circumference helps you pick the best case size for you, there are more things to consider when shopping for your next watch.
Lugs
Watch lugs are not included in case measurements but affect the overall size of the watch. The lugs are the metal extensions at the top and bottom of the watch used to attach the watch strap. If these lugs extend over the curve of your wrist, the watch is too large.
Strap Length
You don't need to be overly concerned about strap length since it can be adjusted for most types of straps. However, if you have a very large wrist, you'll want to check that the strap is long enough to wrap your wrist comfortably.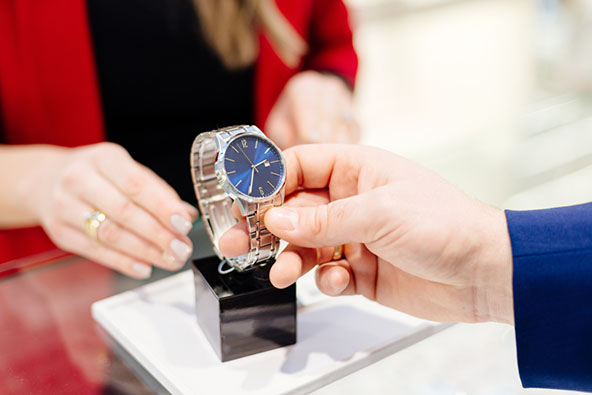 Source: Daniel Jedzura/ Shutterstock.com
Watch Components
Each watch component is designed to come together to create a stylish timepiece that represents your style. Keep in mind that large watch details can create the illusion of a larger watch. For those with smaller wrists, this can result in a well-sized watch appearing too large.
Find the Perfect Timepiece at Luxury of Watches
Your watch is a way to show off, highlight part of your personality, and contribute to your overall look. But to ensure that your watch fits comfortably, it is critical to measure your watch size accurately. Luxury of Watches offers the best range of high-end timepieces in various styles and sizes to suit your needs. Our watches, from prestigious horological houses and jewelry brands, come with certificates of authenticity and generous warranties, so you can rest assured of their quality.