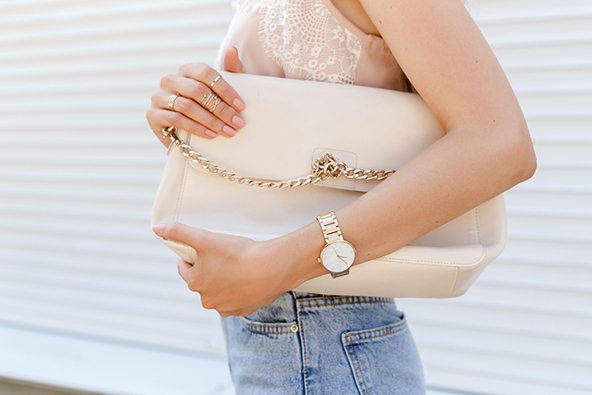 Source: Nesolenaya Alexandra/Shutterstock.com
Even with the rise of digital devices such as iPhones, watches have become an integral part of every woman's wardrobe. Although it may seem that until recently, most watch brands focused only on men, more brands are designing watches to impress women, touting their uniqueness and history as well as their technical excellence. Women's timepieces were once set apart with smaller faces, slimmer bands, and jeweled settings. Recently there has been a departure from gender-defining timepieces, with women seeking mechanical watches with a feminine feature like a beautiful dial. The best brands for women depend on the timepiece that speaks to you, but here are seven of our favorites.
1. Blancpain
Blancpain is a trusted brand with a long history, dating to 1735 when Jehan-Jacques Blancpain first registered himself as a watchmaker. Since he founded the brand nearly 200 years ago, it has remained family-owned, upholding the high-quality and ingenuity. Blancpain's exquisite attention to detail makes them a top choice for women from all walks of life. Their options for women include elaborate bezels with diamonds or rubies that add sparkle.
Choose from their more understated and masculine Leman or Villeret lines if you want a traditional look, or try the Ladybird watches for a fun and whimsical style. The Blancpain Ladybird Womens 0063E-1954-55A is ideal for ladies with a small wrist, with an 18K white gold case measuring just 21.5mm. The leather bracelet adds a casual contrast to the elegant mother of pearl and diamonds on the dial.
2. Breguet
Breguet was founded in 1775, making it one of the oldest watch brands in the world. Abraham-Louis Breguet created the first known wristwatch as a commission for the Queen of Naples. Since then, their wristwatch quality has improved and retained its value as a luxury brand. Breguet is your go-to option if you like having bold script numbers on your watch, as some of their most beautiful designs in their Reine de Naples line have this feature. They are also a good option if you like rose gold, especially in more unusual color schemes like rose gold with silver or black. Try the Breguet Reine De Naples Womens 8968BR119860D00 for a unique watch that balances a masculine color scheme with a modern, feminine flair.
Source: andersphoto/Shutterstock.com
3. Cartier
Cartier's rich history makes each watch a status symbol. The brand was founded in Paris in 1847, so there are nearly two centuries of skill poured into each design. Cartier's watches for women are especially renowned for their slimmer silhouette than the average high-end watch, making them an excellent option for women with smaller wrists. However, anyone can appreciate the timeless beauty of a Cartier watch for women. Though their metal watches are most popular, you can still find beautiful mahogany leather hues and other band colors.
4. Hublot
Hublot was founded more recently in 1980 but has quickly earned its reputation for precision and is considered one of the best Swiss watchmakers. Hublot's options for women are somewhat limited, but their Classic Fusion line features some stunning designs. Their watches are larger and darker in color on average compared to other brands, but this suits full-time working professionals who need to stand out in the boardroom.
The stunning blue hues of the Hublot Classic Fusion 581.NX.7170.LR makes it a powerful option for completing your pant-suit ensemble. It's a bold choice, with a 33mm dial. The smooth precious metals and jewel tones in Hublot's designs add rich depth to your outfits.
5. Jaeger-LeCoultre
Jaeger-LeCoultre has been producing top-of-the-line watches since 1833. The brand offers a unique flair with dainty, rectangular designs like the Jaeger LeCoultre Reverso Classic Thin Womens 2518540. Featuring a silver dial and a stainless steel case, this 40.1 x 24.4 mm watch balances elegant and casual with a leather bracelet. The Reverso model was born in 1931 out of the Art Deco movement, inspiring the angular lines of these watch faces that reflect the industrial world.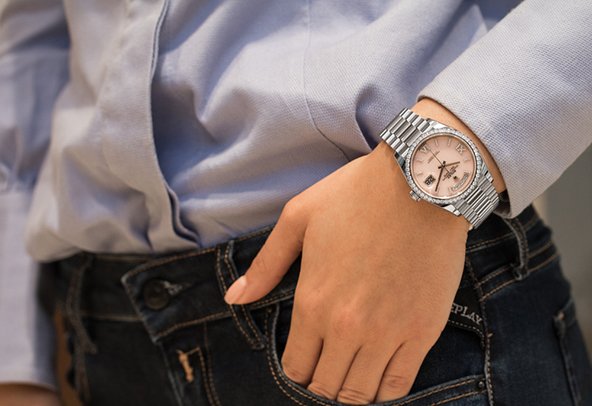 Source: Portal Satova/Shutterstock.com
6. Rolex
Rolex is the most famous watch brand for a reason. Hans Wilsdorf started pioneering more accurate watch mechanisms almost as soon as he started the brand in 1905. Their Datejust line spawned the first Rolex for women in 1957 and includes a reliable calendar feature, making them a choice that's both aesthetically pleasing and highly functional.
The women's watches feature the same classic design that Rolex is known for, but with a feminine twist, including a range of dial colors from pink index to black Roman. Like the men's models, women's Rolex watches are a smart investment that appreciates in value over time, with second-hand watches often breaking auction records. These heirloom timepieces with their five-point crown are considered the king of luxury watches, and the masculine features emphasize a woman's femininity.
Find the Perfect Rolex for Your Wrist
7. Omega
Omega's precision is so highly valued that NASA used Omega watches for the first moon landing; they are used to keep time at the Olympics and even appear in James Bond films. Omega's designs emphasize stainless steel, making them highly durable and a good choice for women who love adventure.
The Omega DeVille Prestige New Collection 24.4mm Qtz 424.10.24.60.01.001 is the perfect mix of practical and stylish with a stainless steel bracelet, case, and bezel, with a modern black dial. Many of Omega's watches for women are available in both a brushed and polished finish, allowing ladies to be particular about the details of the model they're interested in.
Luxury of Watches, Your Designer Watch Source
The watch brand you wear doesn't matter as much as the sense of sophistication and personality it conveys. At Luxury of Watches, we feature a wide range of leading designer brands, ensuring you have a vast selection to choose from. We are dedicated to making sure you feel confident in the piece you choose, with all our watches featuring a five-year warranty. Select a timeless piece that you can enjoy today and pass down to the next generation.