For more than 100 years, Rolex has combined innovative technology, skilled craftsmanship, and horological tradition to offer the world impressive timepieces that set the standard in watchmaking. Despite producing outstanding watches for over a century, Rolex continues to adhere to a rigorous benchmark in terms of material, design, and function. Rolex's newest models have evolved from eight long-standing series of watches; the evolutions take the shape of minor changes to the metals used to make the timepiece and its bracelets, clasps, bezels, dials, and movements. Get familiar with current Rolex models on the market to recognize and appreciate each series' evolution.
Source: D-VISIONS/Shutterstock.com
Sea-Dweller
Rolex's Sea-Dweller series is a prime example of the timepieces' functionality and superior quality. This series is designed to be worn underwater and pays special attention to depth readings and quarter-hour markings for divers. Released to the public in 1971, this model was the first watch to use a patented helium escape valve in its design, which prevented helium molecules from popping the crystal cover off the watch.
The first model had a depth reading of 1,600 feet. Subsequent models have improved on these complications and produce depth readings of about 4,000 feet. The Rolex Sea-Dweller Two-Tone 126603 is one of the newer models and features a steel and 18K gold band and is water-resistant up to 4,000 feet.
Find the Perfect Rolex for Your Wrist
Explorer II
Beginning on Mount Everest in 1952, the origins of the Rolex Explorer series are bold and adventurous. Designed to withstand cold temperatures and extreme heat, Explorers are among the most popular Rolex watches for men, especially those with an adventurous spirit. The classic version of the Explorer featured a black dial, large luminescent numbers, and an Oystersteel bracelet. Its descendant, the Explorer II, was released in 1972. The Explorer II expanded its case size to 42mm in 2011 and offers wearers a classic black dial or a gorgeous white polar dial.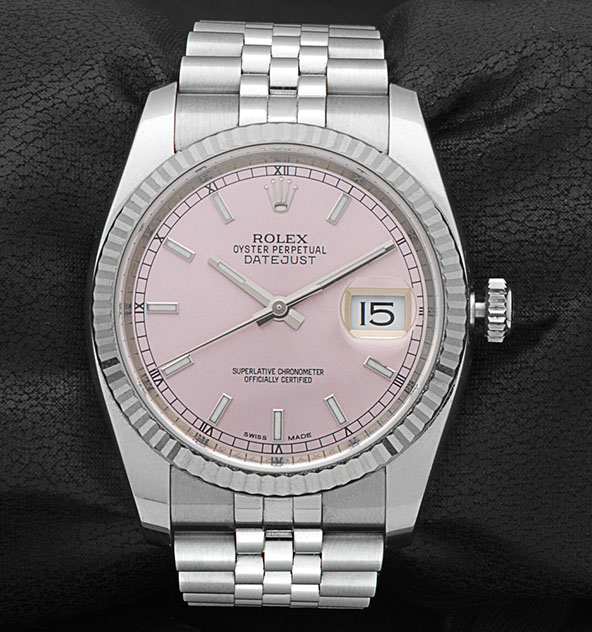 Source: Levent Konuk/Shutterstock.com
Lady Datejust
In 1945, Rolex launched the Oyster Perpetual Datejust, the first commercially available watch with a date display. Due to the watch's spring mechanism and intermediate gears, the date was displayed in a cyclops lens and automatically jumped to the next date at midnight. It wasn't until 1957 that a more feminine women's Rolex line emerged in the form of the Lady Datejust.
Slightly more delicate in appearance, the Lady Datejust adhered to the strict quality standards of all Rolex's timepieces with a few lady-like touches. The ladies' Datejust Diamond models, which feature a diamond-encrusted bezel and the Datejust Pearlmaster options with mother-of-pearl dials are both examples of Rolex's attention to aesthetic detail and quality.
Browse Our Collection of Rolex Watches
Daytona
The Rolex Daytona series is the most popular to date. Released in 1963 and named after the Daytona International Speedway in Florida, the old-school Daytona models featured steel tachymeter scale bezels and stark black and white contrasting dial. The second generation of Daytona models premiered in the 1980s and used a sapphire crystal dial cover and steel bezels.
The Cosmograph Daytona is Rolex's updated take on the series. This variety boasts a 40mm case size, hour, minute, second subdials, and varying materials for the bracelet. The Rolex Cosmograph Daytona 116503 Champagne is an excellent example of the newest Dayton model and its customizable features.
Source: pio3/Shutterstock.com
Current or Vintage?
When deciding on the perfect Rolex for your wrist, you can opt for a classic or vintage model or one of the current selections. There are several aspects of a Rolex watch to consider when deciding whether to buy the most up-to-date model or a more traditional design.
Both vintage and new models are the most costly, whereas a modern but not brand new watch is a middle-of-the-road choice.
Vintage watches are worth a lot on the collectors market, while modern watches are closer to the MSRP value.
Current models are made of new materials and are bright and shiny, while vintage models boast a traditional look.
Find the Perfect Rolex
If you are looking for a current Rolex model or hunting for a pre-owned vintage style, Luxury of Watches has a wide selection of timepieces to choose from. From the newer Cosmograph Daytona models to the classic Explorer II options, our easy-to-use online ordering system lets you select the model and particular style you want. We have 14 years of experience helping our customers choose the perfect Rolex watch for their collection and are ready to guide you through your Rolex purchase.