In the world of luxury watches, age is an asset. Even the highest-caliber watch collections in the world contain a mix of old and new. Just take a peek at the number of vintage references in the collections of John Mayer, Orlando Bloom, or Ryan Gosling, and you'll quickly see that the storied and rare often outdo the shiny and new when it comes to haute horology. Old-school mechanisms, retro designs, and a commitment to impeccable quality have ensured that pre-owned watches by Rolex, Breitling, Patek Philippe, Audemars Piguet, Omega, IWC, and others stay at the top of their resale game.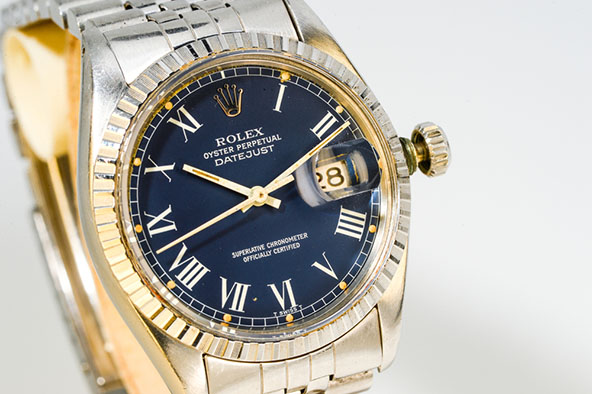 Source: Jitjaroen Channarong/Shutterstock.com
Oh, yeah, and then there's the value! Buying new has its perks, of course, but, as far as cost goes, you simply won't do better than pre-owned. Ready to invest in your first pre-owned style? Here's what to look for when shopping for pre-owned luxury watches to ensure that you score a good deal on that special model, whether it's your holy grail vintage Patek or a mint condition pre-owned Rolex.
1. Authenticity – From our many years of interacting with customers searching for rare, vintage, or limited edition watches, we know that authenticity is of utmost importance to all fans of luxury timekeeping. Indeed, high-end watches are among the most counterfeited products in the world, with Rolex taking the crown, so to speak, as the most knocked-off brand in the realm. But that doesn't mean you're going to get ripped off, as many pre-owned retailers have authenticating down to a science. So, how do you know if your watch is legit? Here are a few quick tips:
Only buy from retailers that provide a guarantee and certificate of authenticity.
Pay close attention to serial numbers and model numbers, as they can provide clues into a timepiece's legitimacy.
Have it professionally authenticated through a jeweler or appraiser.
Pay close attention to discrepancies in color, weight, and design.
Only buy from retailers that cover your purchase with their own warranty.
Know all the most minute specs on the model's case, hands, bracelet, etc.
Read reviews to ensure that you're purchasing from a website or store with a reputation for authenticity.
Shop All Rolex Watches
2. Box and Papers – The box and paperwork associated with your watch—user manual, certificate of authenticity, certificate of origin, tags, etc.—are important for a couple of reasons. First, they help add a layer of legitimacy, as they can be difficult to fake. Second, these components are often required to get the attention of serious collectors who may want to buy your pre-owned watch down the road.
For the right watch—say, a daily driver you want to wear, not coddle—at the right price, box and papers may not matter as much. But if you intend to start a collection or see it as an investment, we'd recommend opting for a pre-worn model that comes with these items.
3. Pristine Condition – Condition can mean the difference of several thousand dollars when it comes to watches in the luxury realm. Whether you plan to wear it every day or keep it in your watch case the majority of the time, you still want it to be in A-1 condition to give the watch and its maker the full glory it deserves.
Luckily, condition isn't that big of an issue with higher-end watches like Pateks or Rolexes, as most people tend to take excellent care of them. For a good deal, you may be willing to overlook things that could be easily repaired or restored with replacement parts.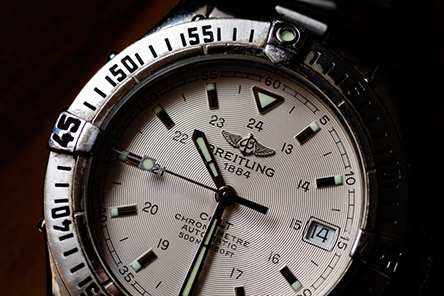 Source: Peter Austin/Shutterstock.com
4. Rarity or Uniqueness – Like buying a used car, buying pre-owned may come with some conceits in terms of style or edition. You aren't building it from the ground up or ordering exactly what you want, so you may have to make a couple of compromises. With that said, you can get something particularly rare, unique, or special if you buy pre-owned at a similar or lower price than you would buy a baseline style brand-new.
Remember, for many watch collectors, the timepiece's provenance—who owned it, where it came from, etc.—can actually add intrigue and value. Naturally, anything that's rare, limited edition, or special in some way will likely fetch more when you go to resell it, too, so think about this from an investment perspective.
Luxury of Watches is your go-to resource for the world's finest pre-owned men's watches. By shopping with us, you've already done the hard work of finding a reputable dealer with a well-vetted collection. Be sure to browse our complete collection of used Rolex, Omega, IWC, Audemars Piguet, Hublot, Breitling, Cartier, and more to discover something that ticks all your boxes.