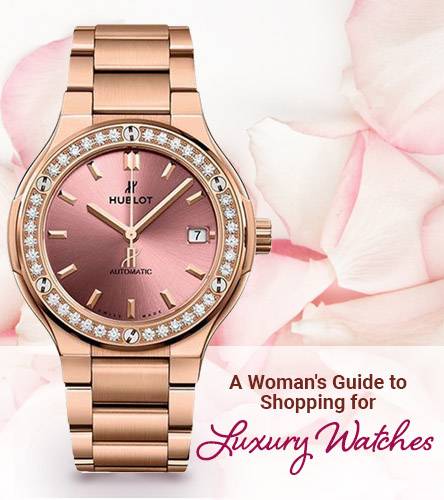 Like an heirloom diamond ring or a pretty string of pearls, luxury watches complete a fine jewelry collection. The right lady's timepiece can be a genuine outfit-maker, transforming any look into one of distinction and style. But there's one big thing that sets a high-end watch apart from diamonds and pearls, and that's function. No other category of jewelry offers pieces as complex, sophisticated, or practical as watches, and time-telling is just the tip of the iceberg.
If you're looking to invest in a piece of haute horology, you've come to precisely the right place here at Luxury of Watches. We specialize in women's luxury watches by all the top designers, which all serve as exceptional investment pieces that have the unique ability to make you feel amazing every time you glance at your wrist. Read on to discover more about styling, designers, and sizing and to peruse top luxury watch models to find a style that's tailored to you.
Women's Watch Styles: From Understated to Oversized
What makes a woman's watch a woman's watch? Historically, timepieces designed specifically for women were smaller, slimmer, and a bit more subdued in terms of design. Sometimes, women's versions are virtually the same as men's, design-wise, only scaled down.
One of the best examples of this is Rolex's Lady-Datejust and men's Datejust—both feature exquisite styling with the signature date window and gorgeous detailing. But a few millimeters on the Oyster case—28 for the Lady-Datejust and 31 to 41 for the men's Datejust—set the two models apart.
A more diminutive aesthetic is something you'll see a lot when shopping for vintage timepieces and this is certainly a hallmark of classic women's styles. However, size tends to matter a lot less in today's world of non-gendered watch design than it once did. The ultra-popular "boyfriend" watch trend helped usher in a whole new category of stylish, oversized watches for women. Thanks to this, we often see ladies rocking traditionally styled men's watches, and many watch-makers are now marketing their models as unisex. Often, the band or bracelet length will have to be sized down to fit a woman's wrist.
Other design features and materials that are more common with women's watches than men's include rose gold, diamonds, mother of pearl, slimmer cases, and much thinner straps. However, barring sizing and comfort, there is nothing about a wristwatch's design that should deem it off-limits for women simply because it is labeled as a men's watch. If you love the look of "men's styles"—often bigger, bolder, sportier, and more complication-heavy—there's no reason you shouldn't have one, so long as you're able to get it properly sized.
Of course, there is absolutely nothing wrong with a slim, simple, or dainty wristwatch, either, and we're seeing that re-emerge among the best trendy-yet-classic options for the modern lady. The truth is that most ladies have more than one time-teller—a petite, dainty, or minimalist style for elegant occasions and daily wear as well as bold, sporty, and oversized versions for making a style statement or adding the extra functionality that comes with larger timepieces.
Find The Perfect Watch For Your Wrist
Know Your Makes
The best women's luxury watches are made by a few distinguished manufacturers, most of which have their feet firmly planted in the timekeeping hotbed of Switzerland. While virtually all of the finest watchmakers produce watches for women or unisex styles that are suited for both genders, the makers listed below are particularly well-known for their women's references. Note that the list below is by no means comprehensive. Other popular makers of high-end women's watches include IWC, Omega, Tag Heuer, and Blancpain.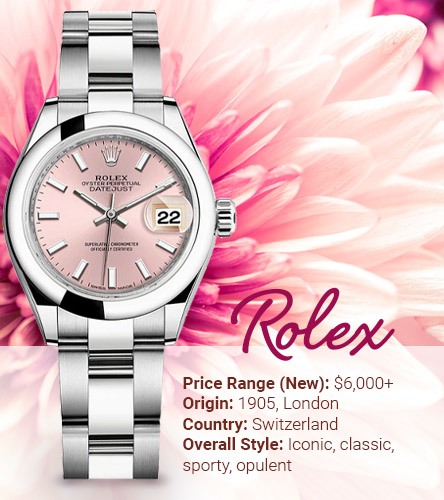 Rolex
Price Range (New): $6,000+
Origin: 1905, London
Country: Switzerland
Notable Wearers: Jennifer Aniston, Rhianna, Miley Cyrus, Charlize Theron, Sofia Vergara, Kim Kardashian, Ellen DeGeneres
Notable Women's Models: Lady-Datejust, Day-Date, Pearlmaster, Datejust, Oyster Perpetual
Overall Style: Iconic, classic, sporty, opulent
Description: Known for setting the universal standard in haute horology, Rolex watches offer an elegant, classic, and instantly recognizable aesthetic. Rolex watches are, of course, known for their impeccable Swiss design and industry-changing watchmaking innovations. By far the most popular women's Rolex is the Lady Datejust, offering a striking yet petite design beloved by the most fashionable women in the world. This is the watch for the lady who wants to add a luxury, high-end look to any outfit.
Audemars Piguet
Price Range (New): $23,000+
Origin: 1875; Le Brassus, Vallée de Joux, Switzerland
Country: Switzerland
Notable Wearers: Kim Kardashian, Kylie Jenner, Serena Williams
Notable Women's Models: Royal Oak, Royal Oak Concept, Royal Oak Offshore, Millenary, Jules Audemars, Haute Joaillerie
Overall Style: Glamorous, high-tech, avant-garde
Description: The signature octagonal bezels and Tapisserie dials make Audemars Piguet favorites among collectors, both men and women. The brand actually debuted the world's first ultra-thin "skeleton watch" (1934) and is credited with creating the thinnest watch in the world—the Royal Oak Selfwinding Perpetual Calendar Ultra-Thin. AP's Royal Oak watches have recently gained favor among the elite of women's fashion, including Kim Kardashian, Kylie Jenner, and Serena Williams.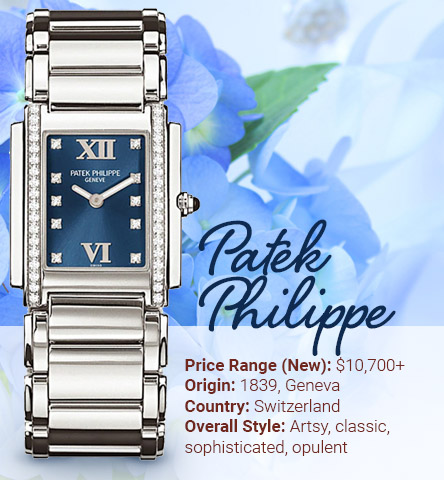 Patek Philippe
Price Range (New): $10,700+
Origin: 1839, Geneva
Country: Switzerland
Notable Wearers: Marie Curie, Queen Elizabeth II, Ellen DeGeneres, Victoria Beckham
Notable Women's Models: Nautilus, Twenty~4
Overall Style: Artsy, classic, sophisticated, opulent
Description: Beloved by both men and women, Patek Philippe watches boast complex Swiss mechanisms and instantly recognizable design features. The various shapes of Patek's cases make them easy to spot among collectors, especially the rounded, octagonal shape of the Nautilus and the chic, rectangular silhouette of the classic Twenty~4. This brand is known to be a choice watch among some of the biggest thinkers and style icons, from Marie Curie to Victoria Beckham. The Patek Philippe Twenty~4 is one of the most popular choices for women looking for a classic dress watch, while the Nautilus has grown a massive following among women.
Cartier
Price Range (New): $2,800
Origin: 1847, Paris
Country: France
Notable Wearers: Michelle Obama, Jackie Kennedy, Kate Middleton, Princess Diana, Jennifer Aniston, Madonna
Notable Women's Models: Santos de Cartier, Tank, Pasha de Cartier, Ronde de Cartier, Maillon de Cartier, Ballon Blanc de Cartier, Baignoire
Overall Style: Elegant, avant-garde, dressy, chic
Description: As a choice designer of taste-makers and first ladies—including Michelle Obama (stainless steel Cartier Tank), Jackie Kennedy (Cartier Tank with a leather band), and Princess Diana (Cartier Tank Francaise)—Cartier has long set the standard in women's watchmaking. The French jewelry designer is best known for creating exceptionally elegant yet avant-garde styles with square or rectangular cases. The Cartier Tank is one of the most popular styles for women, offering an elegant, rectangular case that has become emblematic of the brand.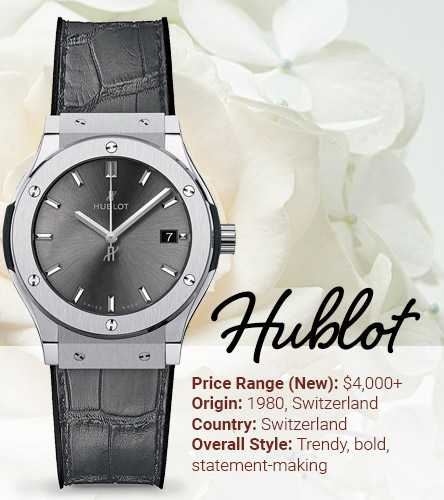 Hublot
Price Range (New): $4,000+
Origin: 1980, Switzerland
Country: Switzerland
Notable Wearers: Kylie Jenner, Beyoncé
Notable Women's Models: Big Bang, Classic Fusion
Overall Style: Trendy, bold, statement-making
Description: Hublot (pronounced oo-blow) gets its namesake from the word for "porthole" in French, and how fitting it is. Hublot watches are known for their chic porthole-shaped case and bold designs. Beloved by edgy, trendy, and sporty tastemakers, Hublot—which is one of the newest players in the luxe Swiss watch game—has gained quite the following since its debut in 1980. Unlike many legacy watchmakers, Hublot makes timepieces that are mostly nongendered, with many unisex styles.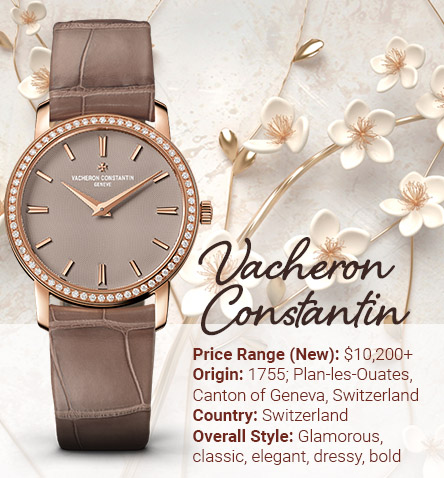 Vacheron Constantin
Price Range: $10,200+
Origin: 1755; Plan-les-Ouates, Canton of Geneva, Switzerland
Country: Switzerland
Notable Wearers: Princess Diana, Kate Bosworth
Notable Women's Models: Traditionelle, Historiques, Patrimony, Harmony, Malte, Heures Créatives
Overall Style: Glamorous, classic, elegant, dressy, bold
Description: As one of the world's oldest watch-makers, Vacheron Constantin holds high prestige in the world of luxury watches. Popular styles for women include the Traditionelle, which features a timeless design inspired by classic watchmaking, and the Patrimony, offering a chic, minimalistic aesthetic. Whether you like a more understated, elegant look or something that commands attention and serves as an heirloom, Vacheron Constantin women's watches are a great choice.
Buying Luxury Watches
Now that you know which brands and styles you prefer, it's time to get an idea of how to shop for luxury watches. Unlike many luxury goods, you can't simply waltz into any store and find the exact one you want. Depending on how rare, limited, or specific your vision, you may have to wait for it to become available or put in the extra work to find it. Here are some more things to consider when embarking on your watch shopping journey:
Online vs. In-Person – Is it better to buy watches online or in person? As long as you go through a reputable dealer, buying luxury watches online is often the better way to go. That's because you're able to shop around to get the best price, and you aren't limited to your geographical region or local jeweler. Often, online jewelers back their products with longer warranties and include certificates of authenticity and hassle-free return policies. The only downfall is that you may have to take it to your local jeweler to be sized once it arrives, and this could be somewhat inconvenient.
Used vs. New – New or used? This is a personal question that really comes down to each individual and her preferences. If you seek a vintage timepiece, naturally you'll have to go with something pre-owned. Buying used also brings the distinct advantage of cost savings. For a single brand-new baseline luxury watch, you could buy something much more special (or even two)! Again, it's important to buy from reputable pre-owned watch dealers to ensure that you're getting a high-quality, authentic product.
Insurance – At the end of the day, your luxury watch investment is just that—an investment. Though it may hold a special place in your heart and may not be replaceable in the sentimental sense, insuring it at least helps ensure that its monetary value is protected should it get lost or stolen. If this is your first high-end watch purchase, make it a priority to have it insured with the rest of your jewelry.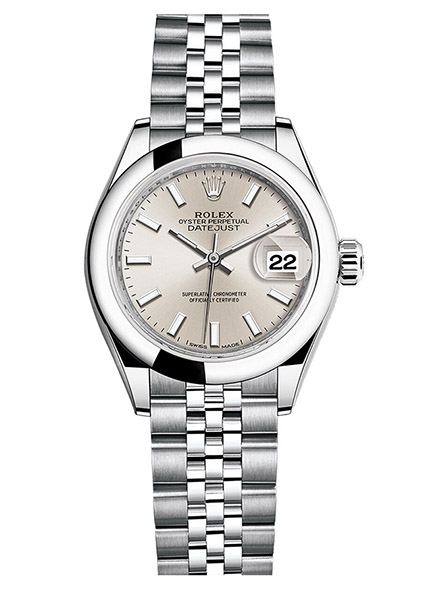 Tailoring It to You
One important thing to consider when buying a watch of any caliber is tailoring it to your preferences. Proper sizing is crucial to ensuring that your watch is comfortable and functional enough for daily wear. On many watches, adjusting the size of the bracelet is simple and can be done at home without any tools. However, in some cases, you may need to bring it in to your local jeweler, such as when you want to resize a men's watch.
Another way to tailor any watch to your unique style and preferences is to swap out the band or bracelet. There are so many ways you can customize the overall aesthetic of your timepiece with a simple swap. Try a leather strap for something understated and down-to-earth or go big with a yellow or rose gold bracelet that accentuates your glamorous or dressy sense of style. Better yet, grab a few bands for each watch and swap them out as you please.
Investing in an Heirloom
Ultimately, a women's luxury watch will become a coveted family heirloom that you can pass along to future generations. When you choose from prestige makers and make sure you're buying an authentic, certified timepiece, you'll be able to protect your investment so it's cherished well into the future.
Image Credits
Source: Amawasri Pakdara / Shutterstock.com
Source: nana77777 / Shutterstock.com
Source: pullia / Shutterstock.com
Source: chandni chauhan / Shutterstock.com
Source: Iriskastock / Shutterstock.com
Source: Radu Gheorghita / Shutterstock.com
Source: andersphoto / Shutterstock.com